Sonam Kapoor labelled anti-Hindu for sharing 'Humans of Hindutva' propaganda post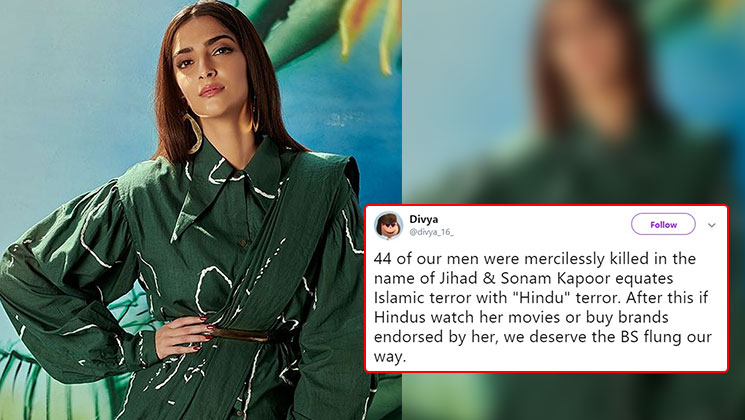 Image Source - Instagram and Twitter
Post the air strikes carried out by the Indian Air Force, on the terror camps across the LOC in retaliation to the Pulwama attacks, the tension between India and Pakistan has escalated. Now IAF Wing Commander Abhinandan Varthaman is in Pakistan's custody after his MiG-21 Bison was brought down in Pakistan occupied Kashmir yesterday. Everyone is praying for his safe return and also urging that better sense prevails so that the situation gets de-escalated at the earliest.
The warlike situation between the countries has raised several security questions. Yesterday, several B-town celebrities came forward and urged everyone to work towards peace in these testing times.
Today Sonam Kapoor shared a post on her Instagram stories which was actually shared by actor Imran Khan's wife of Avantika Malik Khan. Now the said post originally appeared on the Facebook page of Humans of Hindutva. Soon after the 'Veere Di Wedding' actress shared that post the Netizens accused her of propagating "anti-Hindu" rhetoric.
Here's the post that originally appeared on the Facebook page of 'Humans of Hindutva'
Image Source - Facebook
Check out the plagiarised version of the same propaganda post shared by Sonam
Image Source - Instagram
Now here are some of the comments of the netizens slamming Sonam
So Sonam Kapoor and actor Imran Khan's wife are using post of Bigot FB page Humans of Hindutva.

Paid posts? pic.twitter.com/K2HVAwVrJl

— अंकुर सिंह (@iAnkurSingh) February 28, 2019
44 of our men were mercilessly killed in the name of Jihad & Sonam Kapoor equates Islamic terror with "Hindu" terror. After this if Hindus watch her movies or buy brands endorsed by her, we deserve the BS flung our way.

— Divya (@divya_16_) February 28, 2019
Sonam kapoor just compared Hinduism with Islam. Just ask this dumb fcuk what was the religion of the terrorists who hijacked the plane in which neerja bhanot was the air hostess .

— BING (@ya_jhakaas) February 28, 2019
you @sonamakapoor , if you are right and credible , do you have the guts to debate on this matter with me or @Aabhas24 ? nope you won't because you are just a product of nepotism with no talent for sure and eventually we find you don't even have a brain as that of a placozoa

— Mr. Robot (@NIK78297159) February 28, 2019
Shame on @AnilKapoor for raising anti Hindu daughter who says Hindus throw bombs in the name of RAM
Hindus rape in the name of their GOD
When did Hindus throw a bomb?
What a moron ths SONAM KAPOOR is?
I want all Hindus to protest against this Kapoor family
Ostracize Kapoors

— Girish S ⛳⛳⛳🔥🔥 (@girishs2) February 28, 2019
Dear @sonamakapoor pic.twitter.com/g34iDS7L4U

— QueenBee (@artemis_ari) February 28, 2019
Ask her about her dad so socializing with Dawood.

— PJRamya🇮🇳 (@RamyaPj) February 28, 2019
Sonam Kapoor is as dumb as Bollywood can be. She's just an accented version of Rakhi Sawant.

— Grouchy Marx (@jack0fnotrade) February 28, 2019
If she is not going to say sorry for this this is my promise that I will not see any of her Film.

— s.k.pandey (@gkp_skp) February 28, 2019
One thing is for sure…the ordinary citizens of both India and Pakistan have more in common with each other than these ignorant, spoilt, over entitled, virtue signalling rich brats like @sonamakapoor

— Devil's Advocate (@GarimaBhatt2) February 28, 2019
Several users said that if Sonam is not going to apologize for this then they will boycott her films. The actress was also labelled anti-Hindu. We wonder what Sonam has to say about the outrage caused by her post.
For more updates on this story keep watching this space.
Also Read:  Akshay Kumar donates Rs. 15 lakh to family of martyred CRPF jawan