'Kalank' song 'Tabaah Ho Gaye' trolled mercilessly; Twitterati call it 'ordinary choreography'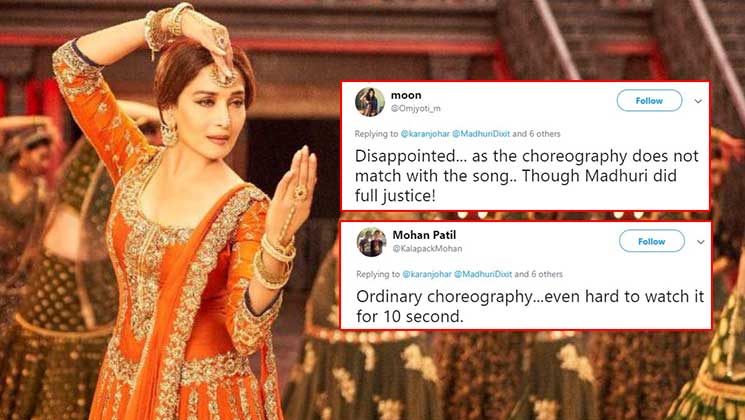 Image Source - Twitter
Madhuri Dixit has once again mesmerised us with her graceful moves in the latest song 'Tabaah Ho Gaye' from 'Kalank'. She has yet again proved how superb a dancer she is. She has left her fans spellbound with her expressions and dancing skills. While everyone is in awe of the song, there is a section of netizens who have trolled the song (especially the choreography). One user called it 'ordinary choreography', while there was one who commented calling it as the 'worst song of the decade'.
Have a look at some of the tweets by the trolls.
Ordinary choreography…even hard to watch it for 10 second.

— Mohan Patil (@KalapackMohan) April 9, 2019
Song is good and the Voice @shreyaghoshal as always Amezing but Choreography is not at all Good or catching @MadhuriDixit is good @karanjohar could have make it more attractive With Choreography

— ViNuShaNkEr ViNeETh AjiThA (@Vinuv143) April 9, 2019
Disappointed… as the choreography does not match with the song.. Though Madhuri did full justice!

— moon (@Omjyoti_m) April 9, 2019
Choreography of this song doesn't do justice with @MadhuriDixit dancing skills. #Disappointed

— Waleed Butt (@WaleedB71397685) April 9, 2019
Its one of the worst song of the decade .. ugly SONG !!

— Rahul Chandel (@ChandelRahul008) April 10, 2019
Some users were all praise for the song and Madhuri. They called it 'beautiful', 'graceful', and 'magical'.
Talking about the song, it is composed by Pritam, lyrics are penned by Amitabh Bhattacharya and shreya ghoshal has lent her soulful voice.
Also Read: 'Tabaah Ho Gaye': Madhuri Dixit is epitomising grace in this marvelous melody