Did you know? Little Madhuri Dixit once started dancing in a train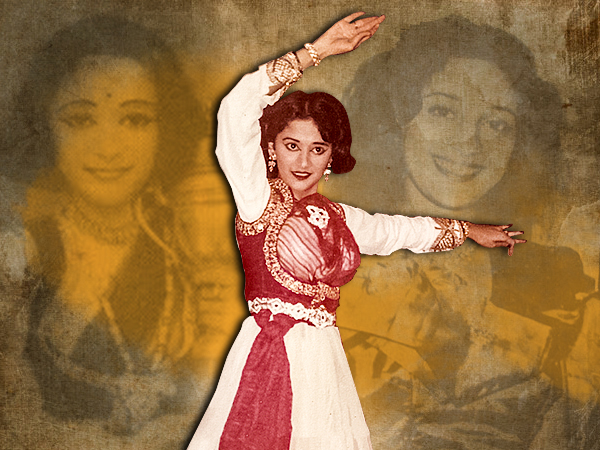 When you talk about dance in Bollywood, one of the first few names to crop up is none other than actress Madhuri Dixit. You might possible be aware that the talented actress made her debut in films at a tender age of 17 with 'Abodh' (1984). As the time passed by, it was during the period of 90s when her dance moves literally won the hearts of millions of her fans. Be it 'Ek Do Teen' from 'Tezaab', 'Dhak Dhak Karne Laga' from 'Beta', 'Choli Ke Peeche Kya Hai' from 'Khalnayak' to 'Didi Tera Devar Deewana' from 'Hum Aapke Hain Koun', and the most recent one 'Ghagra' from 'Yeh Jawaani Hai Deewani', all of them went on to make her the ultimate Queen of hearts and she came to be known as the 'Dancing Diva' of Bollywood. Her infectious smile and her elegance are simply unmatched even today.
Recently, we stumbled upon an old interview of this dancing diva where she recalled a very cute incident from her childhood, when she was only three and a half year old. And to our surprise, it is related to her dance moves. The incident was that once little Madhuri started dancing in a train!
On Karan Thapar's show 'Face to Face', while talking about her childhood Madhuri narrated that her friends say as a child she was quite an outgoing person, who was never hesitant to take part in any kind of debates, or elocution tests or contests. (Also Read:The story of Madhuri Dixit's first ever autograph)
Upon asking further about it, the actress replied, "Yeah! I mean I was everywhere in school. Basically I was doing dramatics or whether it was dancing or whether it was elocution, whether it was debates, whether it was singing, I was enthusiastic you know. No shyness at all, I remember once, there's an incident my mom used to tell me that we were travelling by train and there were a group of friends and we were all talking and you know chatting. I was very little, I was like three and half year old and somebody asked me 'You learn dancing?' So I said 'Yeah! I do'. Then says 'Ok, will you dance?' I said 'Yeah' and I started dancing in the train and my mom was like, 'What are you doing, come here, sit here, you're not supposed to dance here'. So, for me it was all a part of my life you know."
Further, she even went on to share that it was because of her good dancing skills that she received scholarship at the age of 9 as a Kathak dancer. And it was due to her dance performance that the first time her name had appeared in the paper. She was 7 or 8 year old at that time and had performed at the Guru Purnima festival. And there was one Maharashtrian journalist who was there and he had written this article saying that little girl stole the show, kind of.
Quite a cute and cherishing childhood incident, we must say!
Well, certainly it wouldn't be wrong to say that it was Madhuri's dancing skills that took the actress to another level (after entering films) and even made her different from her contemporaries at that point of time.
Check out the full interview of Madhuri Dixit Nene below:
Did you know Alia Bhatt was the FIRST choice for Ranbir's 'Wake Up Sid' ?
Image Source - Bollywoodlife
Director Ayan Mukerji is introducing audiences with a fresh pair on-screen in his next. Yes, we are talking about 'Brahmastra'! The director has roped in Alia Bhatt and Ranbir Kapoor for his trilogy. The lead actors of the film stunned everyone when they made a joint-appearance at Sonam Kapoor's wedding. We are already aware of Alia's fondness for the Kapoor Jr. The actress herself made a confession that she always wanted to marry Ranbir. The duo has been spending quality together lately. The rumors of the two dating are going since a long time.
Keeping that aside, we have some interesting thing to share about this rumoured lovebirds. While everyone is excited to see them together in 'Brahmastra' which releases in 2019. But hey! This is not the FIRST that the duo has come together on-board for a project. [Also read:EXCLUSIVE: Alia Bhatt to get special training for Brahmastra?]
Remember RK's 'Wake Up Sid' opposite Konkana Sen Sharma? Well, Ayan Mukerji had initially approached Alia to play the character opposite Ranbir. The 25-year-old actress had even auditioned for the movie but for some reason, it was passed on-to Konkana.
Check Alia's audition video for 'Wake Up Sid' here-
It was not just meant to be, we say! Anyway, we are way too excited to watch them entertain us with their super-hero flick.
Whatt!!! This singer rejected Madhuri Dixit's wedding proposal
Image Source - bollywoodshaadis
Bollywood's Dancing Diva Madhuri Dixit is celebrating her 51st birthday. The Dhak Dhak girl ruled the hearts of her fans in the 90's ever since she danced into the hearts of many with her chart buster song 'Ek Do Teen' from 'Tezaab'. Madhuri soon created a niche for herself in Bollywoood all thanks to her acting chops and dancing skills.
Image Source - blogspot
With six Filmfare awards and Padma Shri award in her kitty, Madhuri was on the wish list of many. But not many know that this beauty for whom many are mad, was once rejected by a famous Bollywood singer. Yes, Madhuri Dixit's marriage proposal was rejected by famous Bollywood singer Suresh Wadkar.
Image Source - saavn
Madhuri belongs to a conservative Maharashtrian family, and her parents didn't want her to work in movies. Madhuri's father started hunting for a perfect groom for her, since they wanted her to get married and settle down.
Madhuri's parents sent Suresh Wadkar a marriage proposal. But, the response was not what they expected it to be. The budding singer, who was 12 years older than Madhuri rejected the proposal. The reason for his rejection was that he found her too thin.(Also Read: EXCLUSIVE: Madhuri Dixit gets involved with the TV series on her life)
The rest they say is history. If she had settled down in marital blisss, we would not have witnessed such a multi-talented diva.
Today Madhuri is married to Shriram Madhav Nene, a cardiovascular surgeon from Los Angeles. Together they have two sons, Arin and Rayaan.
Image Source - india.com