Call yourself a 'Dil Chahta Hai' fan? We bet you didn't know these facts about it
Farhan revealed in an chat show that he wanted Akshaye (Khanna) to play Aakash, while, Hrithik Roshan was on his mind for Sameer, and Abhishek Bachchan for the role of Sid. That was his ideal casting at that point of time.
Farhan also revealed on the same chat show that actor Akshaye Khanna was always the first choice for the movie. He was the first guy he ever met for that film. And Farhan actually met him at that time because he wanted to cast him in the role that Aamir eventually played, i.e. that of Akash.
'Dil Chahta Hai' was the second time when actors Aamir Khan and Saif Ali Khan shared screen space together. Earlier, they both had worked together in late filmmaker Yash Chopra's 'Parampara' (1993). This film had marked the acting debut of Saif Ali Khan in Bollywood. Ironically, both Aamir and Saif were playing stepbrothers in it where the role of their father was played by late actor Vinod Khanna, whose son Akshaye Khanna was one of the main leads in 'Dil Chahta Hai' along with Aamir and Saif.
Undoubtedly, 'Woh Ladki Hai Kahaan', is popularly known for its picturisation, where choreographer Farah Khan had paid a tribute to the different eras of Bollywood. The idea to shoot this song in this unique way came from Farah herself, while it was costume designer Arjun Bhasin who came up with the idea of the characters of Saif and Sonali imagining themselves in the song played on the big screen which starts with the tribute to the era of 60s, 70s and 80s. In fact, Saif was asked to wear the classic trademark red t-shirt of the 80's Bollywood and white jeans, but the actor had put his foot down when he was asked to pair it with white shoes. 
Farhan Akhtar met Preity Zinta when she first came to Mumbai to give the screen test for 'Kya Kehna', which was coincidentally written by Farhan's mother and veteran scriptwriter Honey Irani. Farhan told Preity that whenever he makes a film, he wanted her to be in it.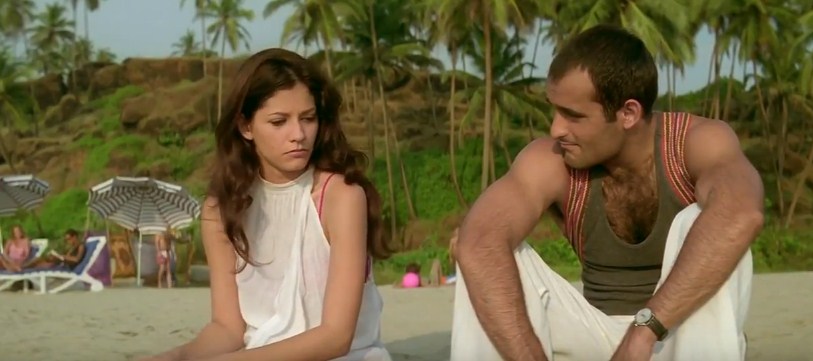 One of the most poignant scenes in 'Dil Chahta Hai'. This scene of Akshaye's character Sid explaining to Deepa (played by Samantha Treymane) about 'letting go' of Aakash (played by Aamir) was an ode to Edgar Allan Poe's poem 'A Dream Within A Dream'.
When it comes to recalling the memorable characters in 'Dil Chahta Hai' which are still remembered, thanks to their bang on casting, one such is that of Subodh aka Time Table. This was played by Farhan Akhtar's friend Asad Dadarkar. This character had only two scenes in the film but they were so hilarious that they have us ROFLing even now. Surprisingly, according to Farhan Akhtar, Asad was a major influence (from real life) for Aakash's character played by Aamir Khan. Isn't that interesting?
Before making his debut as an filmmaker, Farhan Akhtar was an assistant director on projects like 'Lamhe' and 'Himalay Putra'. Ironically, 'Himalay Putra' marked the acting debut of actor Akshaye Khanna in Bollywood. Indeed, Farhan had observed Akshaye's intense acting skills which later made him the first choice for 'Dil Chahta Hai'.