Badshah of Awards: 7 times Shah Rukh Khan made our country proud internationally
Shah Rukh Khan aka Badshah of Bollywood ringed in his birthday today. The actor turned 54 today and his fans all over the globe have been sending his wishes on his B-Day. The actor is one of the most treasured talents in Bollywood. SRK's fan following is not only national but its has spread worldwide.
The actor has become a global name not only for his acting but also for his charity work and other social work. The actor has made his nation proud with his stellar acting skills and also with his work for humanity. SRK has done a lot of great work in and out of the country representing our nation.
Shah Rukh Khan is one of the very few Bollywood stars or even the only one to be awarded some really rare international awards. So on his birthday here are 7 times Shah Rukh has made his nation proud by being awarded internationally.
7 of Shah Rukh Khan's international felicitations.
1. 500 Most Influential Muslim(2009)
Shah Rukh Khan was listed as one of the 500 most influential Muslims in the world, back in 2009 by Georgetown University. Other Indians to share the same honour with him were the former Indian President Dr APJ Abdul Kalam and Oscar-winning composer AR Rahman.
Image Source - Youtube
2. Signed the Guestbook in Berlin Townhall(2010)
Shah Rukh Khan received a rare honour in 2010, it was another feather to the actors hat. He had signed the honourable guest book at the Berlin Town hall in 2010. He is the first Indian actor ever to be felicitated with such prestige felicitations.
Image Source - Youtube
3. Pyramide con Marni Award (2011)
Shah Rukh Khan was awarded the Pyramide con Marni award to honour his charitable work, his kindness, at the 20th UNESCO Awards in Germany in 2011. The actor was bonded with Hollywood star Jet Li. Again, he is the first Indian to be honoured with this award.
Image Source - Instagram
4. Global Diversity Award(2014)
Shah Rukh Khan was honoured with Global Diversity Award at the State Room of Britain's House of Commons in London for his work in cinema. The actor was presented by the British Parliament Speaker John Bercow.
Image Source - Youtube
5. Legion of France (2014)
Shah Rukh Khan was honoured with the 'Legion of France', it is considered one of the country's highest civilian awards. French Foreign Minister Laurent Fabius presented the award to the actor. After Amitabh Bachchan, Shah Rukh is the second Bollywood actor to be honoured with such an award.
Image Source - Youtube
6. Crystal Award (2018)
Shah Rukh Khan was also awarded the Crystal Award at the World Economic Forum 2018 in Switzerland. The megastar was awarded as a humanitarian because of his efforts to rehabilitate acid attack survivors through his non-profit organisation named Meer Foundation.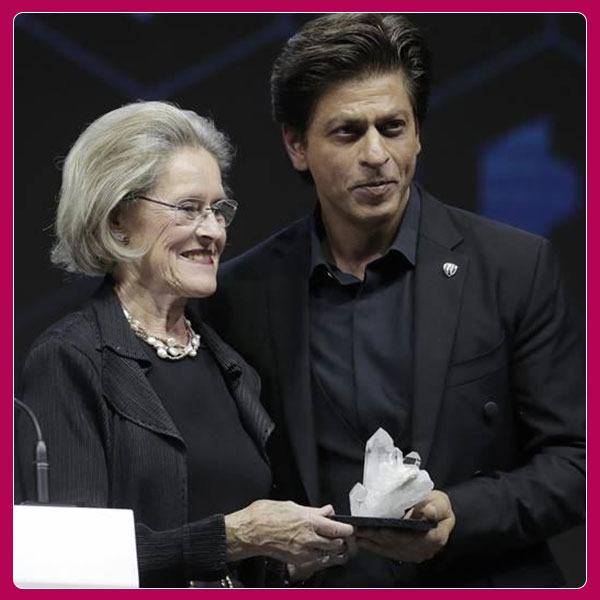 Image Source - Yotube
7. Excellence in Cinema Award (2019)
SRK was felicitated with the 'Excellence in Cinema' honour at Indian Film Festival of Melbourne (IFFM) 2019. He was felicitated at iconic Palais Theatre in Melbourne. The actor was also the chief guest at the same event.
Image Source - Youtube
Meanwhile, Shah Rukh Khan was last seen in the movie 'Zero' that also starred Anushka Sharma and Katrina Kaif. Post that the actor has not yet announced any other projects.
Also Read: After David Letterman, Shah Rukh Khan to appear on another popular Hollywood talk show?