'Dabangg 3' Movie Review: The Salman Khan starrer is three times more entertaining, fun and Dabangaayi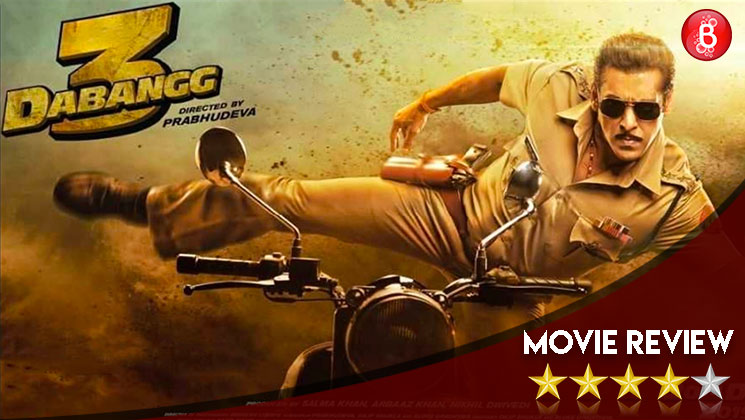 Image Source - Instagram
Directed By
Prabhudeva
Produced By
Salman Khan, Arbaaz khan, Nikhil Dwivedi, Salman Khan Films, Arbaaz Khan Productions, Saffron Broadcast & Media Limited
Cast
Salman Khan, Sudeep, Sonakshi Sinha, Saiee Manjrekar, Arbaaz Khan, Mahesh Manjrekar, Amole Gupte, Tinnu Anand, Nikitin Dheer, Pramod Khanna, Pankaj Tripathi, Nawab Shah.
Bollywood Bubble Rating:
4/5
What's It About:
With the third instalment of 'Dabangg', we are taken back in time to see how innocent Chulbul Pandey evolves into the Dabangg Robinhood Pandey. Here we are introduced to his young lady love Khushi (Saiee Manjrekar) and the terrifying antagonist Bali Singh (Sudeep). Now, this demon from the past has come to haunt Chulbul's peaceful present. How Chulbul Pandey overcome the hurdles and fight his enemies forms the rest of the plot.
What's Hot:
Chulbul Pandey is back with a bang and there is no denying it. 'Dabangg 3' is the ultimate treat for Salman's fans. From the very first scene, the movie keeps you on the edge of your seat. Salman's entry is whistle worthy. He has played the character to the 'T' of a flamboyant yet a badass cop.
Talking about debutante Saiee Manjrekar, she comes across as sweet and innocent as Khushi. She beautifully fits into her characters' mould. The flashback sequence between Saiee and Salman will tug at your heartstrings as it is extremely emotional and heartwarming.
Sonakshi Sinha as Rajjo, as usual, was a treat to watch. Her endearing chemistry with Salman is one of the highlights of this film. Sudeep was the ultimate bone-chilling villain and was at par with Salman when it came to the iconic hero-villain takkar. The interval comes on a very crucial note and will leave you impatient to see how the second half unfolds.
What's Not:
Well, the movie is a bit overstretched as the run time could have been easily cut down. There was a lot happening all at once in some scenes and that got tedious after a point. The screenplay could have been crisper. And there are too many songs! The makers could have done without some songs.
Verdict:
'Dabangg 3' is your ultimate Bollywood masala entertainer. It has a good dose of Entertainment, romance, and drama that makes for a really great watch. You will surely leave the theatre with no regrets. Bollywood Bubble gives this film 4 stars.
Box-Office:
'Dabangg 3' will surely take the box-office by storm. It will indeed do great business and will break several records too after all its Salman Khan film!
Watch Trailer:
Also Read: 'Dabangg 3': Salman Khan fans to organise a special screening for underprivileged kids