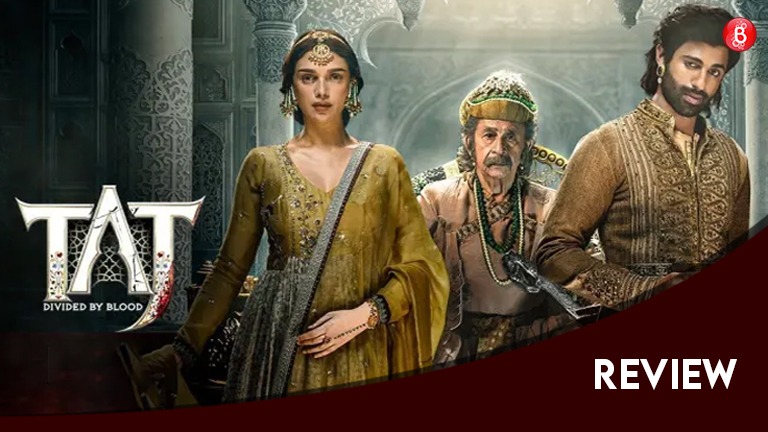 Series: Taj: Divided By Blood
Director: Ron Scalpello
Platform: Zee 5
Star cast: Naseeruddin Shah, Aditi Rao Hydari, Aashim Gulati, Dharmendra, Taha Shah Badussha, Shubham Kumar Mehra, Rahul Bose, Sandhya Mridul, Zarina Wahab, Padma Damodaran,
Bollywood Bubble Ratings: 2.5/5 stars
Taj Series Review:
Jeez, what a convoluted story! Taj – Divided By Blood is a 10 episode series which talks about the Mughal dynasty and the three prince- Salim, Murad and Daniyal who are fighting for the power of the throne. Taj takes you back to the Mughal era where Jalaluddin Mohammad Akbar – The Great was ruling the country. We have learned about Mughals in the 10th standard textbooks; however, it is the movies and series that narrates a personal side of Mughals. Just like other series and movies on Mughals, yes, Taj also has Akbar, Salim, Jodha and Anarkali in it.
I know very little about the history but I'm a sucker in knowing and learning about history, especially periodic era. It fascinates me to see or learn about Maharaja, Shehensha. It amuses to be see the grandeur of the Mughal but weirdly so, I didn't feel that zeal and zest after watching Taj. It was dull, slow and extremely cluttered. If asked me to review Taj in one word then I would say disappointing. It is even more weird right now to write this review because I just finished watching Gulmohar which was about loving one's family and here, it is about destroying each other to gain the power of Throne.
Taj shows the life of Akbar, played by Naseeruddin Shah, who puts his son in different and difficult spot in order to test them on who is capable of holding the reins of Mughal dynasty after his death. But little did he know, all the three are not only having their own struggles in their lives but also proved to be incapable of being the next successor of the empire.
Drawbacks:
The major setback is the pace of the film which can be a problem. It will make you want to hit the forward button during several scenes just to extract the meat out from the story. Another let down was the love story between Anarkali and Salim. I mean that has always been an iconic part in every movies and series on Mughal; however, the makers didn't focus on their love story. You don't feel connected to them at all. Given the fact that it is 10 episodes long, I didn't even realised when their love story
Story:
Witness one of history's greatest battles for power as the three sons of Emperor Akbar fight to succeed their father to the Mughal throne.
Star Performances:
Naseeruddin Shah essays the role of the Emperor – Jalauddin Mohammad Akbar who is modest, smart, emotional and manipulative. He is on the brink to leave his throne but also understands that his sons have no capabilities to take over the dynasty. He is often shown his displeasure towards his three sons. Naseeruddin as the emperor looks powerful yet plays the vulnerable part convincingly. His expression to his baritone voice, Naseeruddin demands attention.
Aditi Rao Hydari plays Anarkali – the favourite concubine of Akbar who eventually falls in love with Prince Salim. I don't know but I couldn't connect with her as Anarkali because she definitely didn't leave any impact on me. Aditi, hands down, looks mesmerising and exude emotions just through her eyes but she absolutely didn't convince me as Anarkali. She didn't do any justice to her character in the insufficient screen time.
Aashim Gulati plays the role of Prince Salim who is charming, a tender lover and a womaniser. The purpose of his life to live and let live. He has no interest in becoming the next King but he is completely into women and alcohol. Aashim as the Prince looked charming but just like Aditi, he wasn't convincing too. Of course, I'm not comparing him with the legendary late actor Dilip Kumar, which would be wrong but I felt that somewhere Aashim lacked the charm and stance of being a Prince.
Costume:
For any period drama, costumes play an important role and well, in Taj, it needs a special mention. Costume assistant directors like Bhaumik Singh Bhati, Vidhika Garg have done a fantastic job with the costumes. From choosing the colour palette, jewellery to Mughal patterns and designs on the outfits, everything looks beautiful and aesthetic. I was mesmerised with the outfits that were given to Anarkali, from the soft pastels to bold reds, it was enchanting for sure.
Conclusion:
Overall, Taj starring looks Naseeruddin Shah, Aditi Rao Hydari, Aashim Gulati looks magnificent and visually stunning but story seems cluttered while the pace of the series can be problematic. I'm going with 2.5 stars only because of it's larger-than-life scale and Naseeruddin Shah.
Watch the Taj trailer after the review: