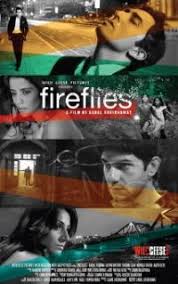 Movie Director: Sabal Singh Shekhawat
Cast and Crew: Rahul Khanna, Monica Dogra, Arjun Mathur, Shivani Ghai
Releasing Date: May 2, 2013
Music Composers: Zubin Balaporia
Lyricist: Uday Benegal, Nikhil D'Souza, Monica Dogra, Sahir Ludhianvi (Aage Bhi Jaane Na Tu)
Production House: Wild Geese Pictures
Fun Fact: Monica Dogra is an actress and singer as well, so she has performed more than one song in this movie.
Why it Made News: The Hollywood-like setting of the movie, with its language being English, was the talk after its trailer was release.
Fireflies is the tale of two Brothers, who live separate lives. They were once brothers but something that happened in the past made their relationship sour. They do get joyous unexpectedly and share a connection, but there is something pushing them apart from each other, and the demons of the past must be eliminated for them to come close again.