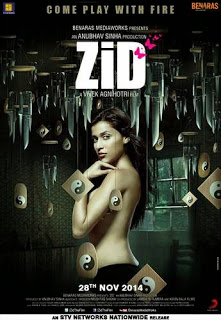 Movie Director: Vivek Agnihotri, Anubhav Sinha, Rohit Malhotra
Cast and Crew: Karanvir Sharma, Mannara Chopra, Shraddha Das, Seerat Kapoor
Releasing Date: November 28, 2014
Music Composers: Sharib-Toshi
Lyricist: Shakeel Azmi
Production House: Benaras Media Works
Fun Fact: The movie will make you ponder whose 'Zidd' was it anyway. By the way, ever seen an alligator as a pet? This movie has it.
Why it Made News: The basic plot is good. However, the movie had a lot of loopholes and is poorly acted.