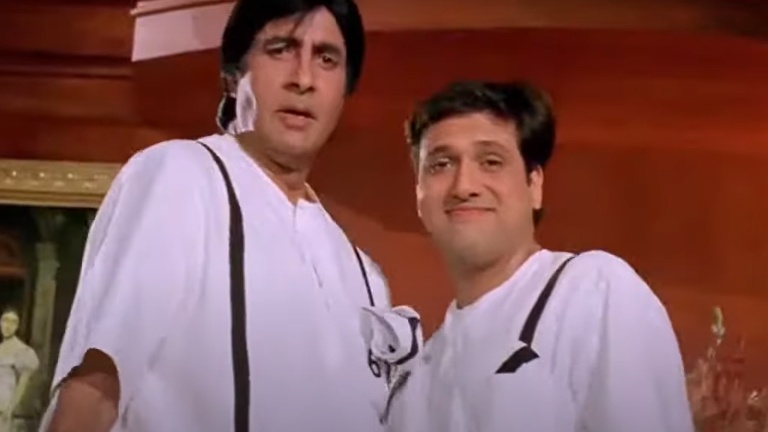 Amitabh Bachchan and Govinda are loved for their stellar performances in the movies. Their on-screen pairing in the films like Bade Miyan Chote Miyan, Hum and others is a treat to watch. And, they both enjoy a massive fan base, who love and adore them to the core. However, there was once a time when Sr Bachchan was ignored by fans in front of Govinda, who was then a rising star.
Years ago, Big B spoke at length about how stardom keeps changing hands and even acknowleged it. In the 1990, Sr Bachchan, who has been associated with the movies for almost five decades now opened up about the same. And, he also shared his personal experience of witnessing all of it first-hand.
Amitabh Bachchan ignored by fans in front of Govinda!
Just like every other actor, Sr Bachchan also experienced his share of highs and lows in the movie business. With the changing taste in cinema in the 1980s, the audience looked out for more than the 'angry young man' and action-based movies. The times were changing and so was the choice of movie goers!
It was in the 90s that Amitabh Bachchan went on to feature alongside Govinda, who was then a rising star, in the movie, Hum. Directed by Mukul S. Anand, the 1991 film saw Big B, Govinda, Rajinikanth, Kader Khan and Anupam Kher.
Sr Bachchan recalled how a group of youngsters who visited the sets of Hum ignored him to click a photo with Govinda. Speaking with the Movie Magazine in 1990, Big B said, "I was shooting with Govinda for Hum when a group of young kids came up to me and one of the boys asked for an autograph. Govinda was standing next to me. There was a young, cute girl who gave him a slap and said 'Woh nahin, yeh. Govinda ka autograph lo' (Not him. Take Govinda's autograph)."
Back then, Amitabh Bachchan was going through a low in his career after delivering consecutive flops. It was Govinda who had established himself as a rising movie star with his release, Love 86, in 1986.
Opening up about his film choices, Big B acknowledged his mistakes. He said, "I made mistakes and kept trying to rectify them in film after film. But there's no denying that it is the turn of the younger boys now, because today's audiences are between 18 and 30."
Sr Bachchan continued to work hard in the movies. And, today, the Shahenshah of Bollywood has a career spanning over five decades.