Amitabh Bachchan blockbusters remade by South Superstar Rajinikanth
Billa is a 1980 Tamil crime film produced by Suresh Balaje and directed by R. Krishnamurthy. The film stars Rajinikanth, K. Balaji, Thengai Srinivasan, Manorama, Sripriya, Reena Roy and Major Sundarrajan.The film is a remake of the Hindi film Don which starred Amitabh Bachchan and Zeenat Aman.
Maaveeran was the first and only Tamil film to be released with wide high-resolution 70 mm and directed by Rajasekhar starring Ambika and Rajinikanth. It was a remake of the 1985 superhit Hindi film Mard starring Amitabh Bachchan and Amrita Singh.
Naan Vazhavaippen is a 1979 Tamil film directed by D. Yoganand. It stars Sivaji Ganeshan and K. R. Vijaya in the lead roles. Rajnikanth played an extended cameo. The film was a remake of the 1974 film 'Majboor' starring Mega Star Amitabh Bachchan and Parveen Babi, which itself was a remake of an American film titled Zigzag.
Ram Robert Rahim is a 1980 Telugu film directed by Vijaya Nirmala and stars her husband Krishna as Robert, Rajinikanth as Ram and Chandra Mohan as Rahim. Anjali Devi plays their mother. Sridevi plays Robert's girlfriend. The film is a remake of the Hindi hit film Amar Akbar Anthony, starring Amitabh Bachchan, Vinod Khanna & Rishi Kapoor.
Dharmathin Thalaivan is a Tamil action-drama film starring Rajinikanth, Prabhu Ganesan, Charlie, Nassar, Captain Raju, Kushboo and Suhasini. The film is the remake of Hindi movie Kasme Vaade starring Bollywood mega star Amitabh Bachchan and Randhir Kapoor. The movie was declared superhit at the box office and completed a 100-day run in many centres.
Panakkaran is a 1990 Tamil language film starring Rajinikanth and Gouthami. The film is a remake of Lawaaris, a 1981 Bollywood box office hit film starring Super Star Amitabh Bachchan. The film ran for more than 200 days and was declared a hit film.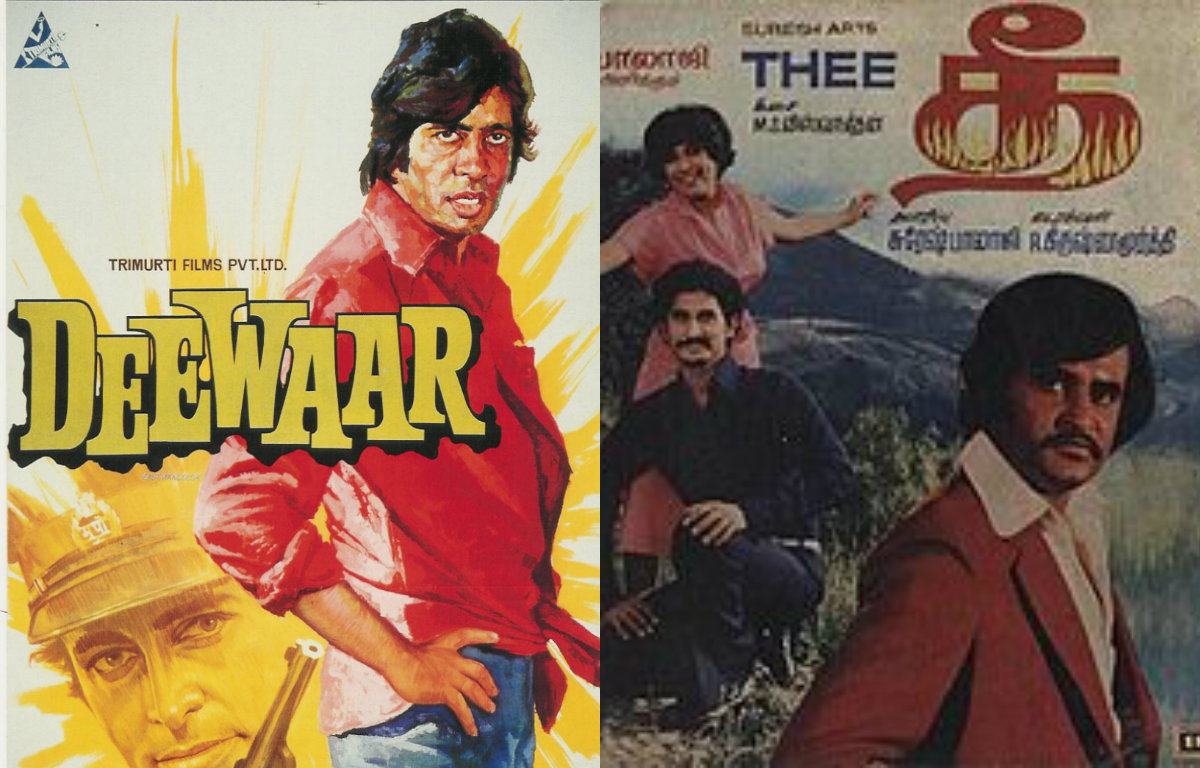 Thee is a 1981 Tamil film directed R. Krishnamurthy. Rajinikanth plays the lead role and Suman plays the role of his brother. It is a remake of the classic Hindi film Deewar starring Bollywood Mega Star Amitabh Bachchan with Shashi Kapoor, Neetu Singh and Parveen Babi, directed by Yash Chopra.