'Bigg Boss 14': Jaan Kumar Sanu's mother sent a Diwali gift for Nikki Tamboli but shockingly stopped it mid-way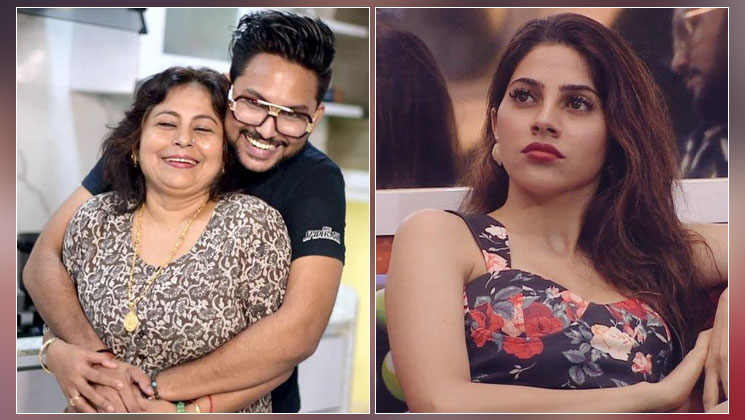 Image Source - Instagram
Last week, the housemates were seen sacrificing their belongings to save others in the 'Bigg Boss 14′ house. Post which was Diwali and many housemates received gifts from their loved ones. Jaan Kumar Sanu's mother Rita Bhattacharya had decided to gift Nikki Tamboli a blanket but changed her decision and asked the makers midway to stop.
Jaan Kumar Sanu had spoken to Bollywood Bubble about his game strategy before going into Bigg Boss. Have a look:
Nikki Tamboli had sacrificed her mother's shawl to save Jaan Kumar Sanu from the nominations. This act of hers touched Jaan Kumar Sanu's mother's heart and she had decided to send a blanket for Nikki Tamboli during Diwali. In fact, she had sent the blanket to the makers but last minute she changed her mind and asked the makers to not go through with it.
Jaan Kumar Sanu's mom also spoke to Bollywood Bubble recently about how she feels her son is performing inside the Bigg Boss house. Have a look at what she had to say:
A source told SpotboyE, "A lot of gifts were sent by the contestants' families for the Diwali task. While everybody sent gifts to their family members, Jaan Kumar Sanu's mother sent a blanket to Nikki Tamboli and was quite excited to give her. But eventually, she changed her mind when she saw Nikki Tamboli alleging him of kissing her forcefully. And her repeated statements against him which came as an insult." 
View this post on Instagram
Well, things seem to be heating up a lot inside the 'Bigg Boss 14' house. Let's wait and watch whether Nikki Tamboli finally gets to have a blanket or will Rita Bhattacharya take her gift for Nikki Tamboli back from the makers of the show? Only time will tell. Stay tuned to this space for more updates on Bigg Boss.
Also Read: 'Bigg Boss 14': Abhinav Shukla schools Rubina Dilaik for discussing her game plan; the couple gets into an argument