Abhay Deol pokes fun at being MIA from Bollywood with a hilarious meme
Image Source - Instagram
Abhay Deol has been away from Bollywood for quite a while and that has kept people guessing why so? Recently, the actor took to his Instagram to share a hilarious meme that took a dig at his career trajectory that sent the internet into a hilarious riot.
The meme showed an image of the actor with his name 'Abhay' written on top. Next to it, was written 'Ab-nahi-hay' implying that Abhay and his career are going nowhere. In the post, Abhay addressed the question "Why do we not see you more often on the big screen?" to which he replied, "It's a loaded question, one I cannot answer in short. Maybe one day I will write a book about it." Abhay also wrote that he has "3 films in post production" and is starting two more. Towards the end of his post, the actor wrote a line "it ain't over till it's over" from Lenny Kravitz's song.
Have a look at Abhay Deol's full post here.
The post got a lot of thumbs up from his contemporaries and followers as one wrote, "He has humour also!!!! ❤️❤️❤️ Aisa full package ab kyu nahi banate Bhagwan ji!!!!!!", another wrote, "😂😂😂 You have an amazing sense of humour #abhaydeol and to link it so relevantly with your life!!! Just insane👍".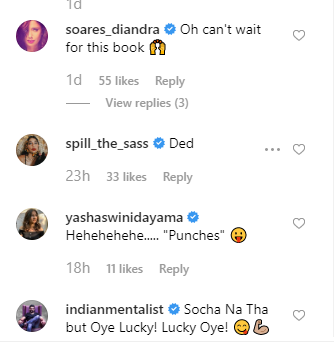 Image Source - Instagram
Image Source - Instagram
Image Source - Instagram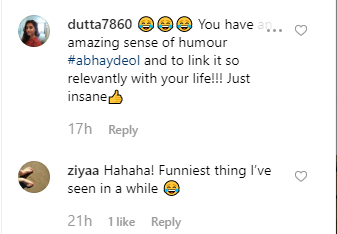 Image Source - Instagram
On the work front, Abhay recently featured in the Netflix film, 'Chopsticks' along with Mithila Palkar.
Also Read : How 'Zindagi Na Milegi Dobara' helped us embrace life and its complexities