Deepika Padukone, Katrina Kaif, Anil Kapoor welcome IAF commander Abhinandan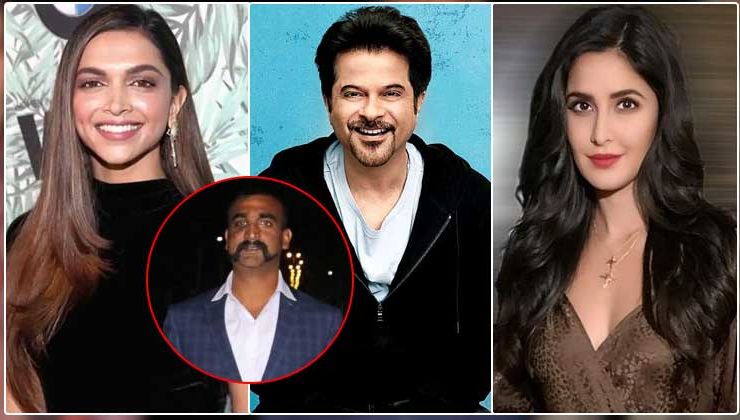 Image Source - Instagram
Indian Air Force Wing Commander Abhinandan Varthaman is finally back home. At around 9:30 pm, Abhinandan entered India via Attari-Wagah border. His safe return from Pakistan gripped the entire nation with excitement and joy. Bollywood celebs also welcomed Abhinandan and shared their joy of the Wing Commander's homecoming.
Riteish Deshmukh, Ranveer Singh, Anil Kapoor, Anupam Kher, Parineeti Chopra, Anushka Sharma, Shahid Kapoor, Kriti Sanon, Vivek Oberoi, Alia Bhatt, Malaika Arora, Arjun Kapoor, Deepika Padukone, Katrina Kaif and many more welcomed Abhinandan.
Here are the tweets and Instagram posts by the celebs.
India unites to welcome the braveheart back to his homeland! With pride in our hearts & a smile on our faces, #WelcomeHomeAbhinandan!

— Anil Kapoor (@AnilKapoor) March 1, 2019
Welcome home Abhinandan! आपकी वीरता सर आँखों पर! Inspiration to our whole nation . Jai Hind 🇮🇳✊

— Ranveer Singh (@RanveerOfficial) March 1, 2019
Loved this art by – @sukrutdeshpande #WelcomeBackAbinandan pic.twitter.com/632yEmWWkX

— Riteish Deshmukh (@Riteishd) March 1, 2019
#WelcomeBackAbhinandan . Jai Hind.🙏🇮🇳🇮🇳 pic.twitter.com/3g38dbHTuT

— Anupam Kher (@AnupamPKher) March 1, 2019
Everyone can learn something or two about real heroism from you. The entire nation is extremely proud of you and your courage! #WelcomebackAbhinanadan

— Parineeti Chopra (@ParineetiChopra) March 1, 2019
The entire nation welcomes you home Abhinandan. You are a true Hero. 🇮🇳

— Anushka Sharma (@AnushkaSharma) March 1, 2019
What a blessed visual to see our hero come back home. #Jaihind

— Shahid Kapoor (@shahidkapoor) March 1, 2019
Its indeed a very happy friday! Relieved and glad to have our hero, Wing Commander Abhinandan Varthaman, back home!! Every indian is proud of your valour and dedication! Welcome back!🙌🏻🙌🏻🇮🇳🇮🇳

— Kriti Sanon (@kritisanon) March 1, 2019
Welcome Home Abhinandan 🇮🇳 🇮🇳
Hats off to your heroism and daring spirit! You have inspired us all incredibly and made us extremely proud. We are all so happy to have you back! 🙏 Big Salute! #AbhinandanReturns

— Vivek Anand Oberoi (@vivekoberoi) March 1, 2019
Our hero is home. #Abhinandan 🇮🇳

— Alia Bhatt (@aliaa08) March 1, 2019
We salute your valour and the entire nation is extremely proud of you Wing Commander Abhinandan… Welcome home 🙂

— Arjun Kapoor (@arjunk26) March 1, 2019
In the meantime, filmmaker Omung Kumar said, " Wing Commander Abhinandan is a shining example of the courage our forces have displayed since our Independence. His calmness when captured, his dignity under enemy tactics will be remembered by the nation. Jai Hind."
Omung Kumar
Producer Anand Pandit said, "Welcome Back Braveheart Wing Commander Abhinandan. You are a national hero and our pride. Your bravery knows no bounds and we stand today as a nation in debt to your valour. Jai Hind."
In retaliation to Pulwama attack, Indian Air Force (IAF) launched an air strike on Jaish-e-Mohammad (JeM) terror organisation in Pakistan's Balakot on Tuesday early morning. In response, the Pakistani Air Force targeted military installations on the Indian side on Wednesday. Alert IAF gave a befitting reply to Pakistan and forced PAF to go back. During the operation, Indian Air Force's Wing Commander Abhinandan's jet crashed and he was arrested by Pakistani forces. But before that, Abhinandan's MiG 21 had shot down Pakistan's F-16 fighter jet.
However, a day after, Pakistan PM Imran Khan announced that they will be releasing him as a gesture of peace. And now, he is safe and back to India.
Also Read: Here's what Ranveer Singh has to say about ban on Pakistani artistes