Here's what Ranveer Singh has to say about ban on Pakistani artistes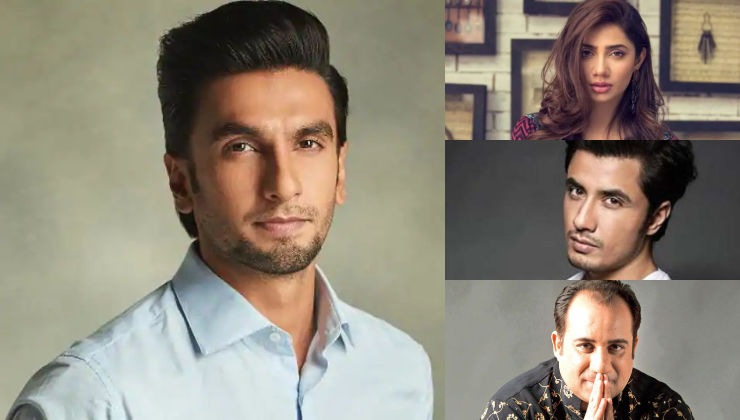 Image Source - Twitter
Ranveer Singh is one of the most talented actors of Bollywood and it's a fact. Spanning his almost 9-year career from 'Band Baaja Baaraat' to 'Gully Boy', Ranveer Singh played different roles and now he is known as a versatile actor. His last three films – 'Padmaavat', 'Simmba' and now 'Gully Boy', have turned out to be blockbusters and earned around Rs. 700 crore at the box-office. The actor has begun prepping for his upcoming film '83', which is being directed by Kabir Khan and is based on the Indian cricket team's 1983 World Cup victory. Interestingly, our on-screen hero Ranveer Singh feels that Abhinandan is a "true hero".
On the other hand, post-Pulwama terror attack, film associations banned Pakistani artists including actors, singers, musicians, etc. from working in Bollywood. Also, Indian Air Force retaliated to Pulwama attack by conducting air strikes on terror camps of Jaish-e-Mohammd (JeM) in Pakistan's Balakot. Following this, the Pakistani film industry banned Indian films.
At the India Today Conclave 2019, on being asked, Ranveer Singh opened up about the banning of Pakistani artistes. He said, "I am very cognizant that there is this school of thought that one should not mix art and sport with it, they are two different realms."
"But at the same time, us as artists and sportsmen, we are not sacrificing the same way that some of our compatriots are. Art and sports are different realms. The boundaries should be different. If there's even one mother of a soldier who believes that we shouldn't engage, we should follow that," he added.
Speaking about Wing Commander Abhinandan, the 'Gully Boy' actor said, "It's been a funky time. Today is a good day, but let's not forget what has happened recently. As far as Abhinandan goes, he is a true hero. The way he conducted himself in the face of such a situation – he is a true hero."
Importantly, Ranveer Singh was among the first to acknowledge the Indian Air Force's airstrike mission on JeM terror camps in Pakistan's Balakot. He had also tweeted out for Abhinandan saying that the country is with him. He was also among the first to take to his Twitter upon Abhinandan's return.
Take a look:
Disgusted at the cowardly terror attack on the #CRPF soldiers in #Pulwama – my sincere condolences to the families of our brave jawans. Saddened. Angry.

— Ranveer Singh (@RanveerOfficial) February 14, 2019
Jai Hind 🇮🇳 @IAF_MCC

— Ranveer Singh (@RanveerOfficial) February 26, 2019
Braveheart Wing Commander Abhinandan. India is with you. 🇮🇳

— Ranveer Singh (@RanveerOfficial) February 27, 2019
Welcome home Abhinandan! आपकी वीरता सर आँखों पर! Inspiration to our whole nation . Jai Hind 🇮🇳✊

— Ranveer Singh (@RanveerOfficial) March 1, 2019
Also Read: Preity Zinta: Americans are shocked that a 65-year-old MiG 21 shot down an F16