Why did Kamaal R Khan apologise to SS Rajamouli? Read on to know…
Kamaal R Khan is one name everybody dreads! Not because he is an evil man, but simply because nobody wants to deal with his nonsense. Most of the times, he calls for attention with the negative comments he makes on Twitter and well, he leaves no single opportunity to post garbage about Bollywood celebrities. Even when the 'Baahubali 2 – The Conclusion' was about to release, KRK had completely contradicting thoughts over the movie. Where everyone was in awe of the magnum-opus, KRK gave a bad review to the film and received wrath too from the audience. He even called names to Prabhas and Rana Daggubati. But hey, looks like the self-proclaimed movie reviewer has had a change of heart.
Recently, he took to his Twitter handle to apologise to SS Rajamouli for giving a bad review to his film. Acknowledging the audiences review for the film, he has said that he is sorry for giving a wrong review of 'Baahubali 2'. Here's what he tweeted,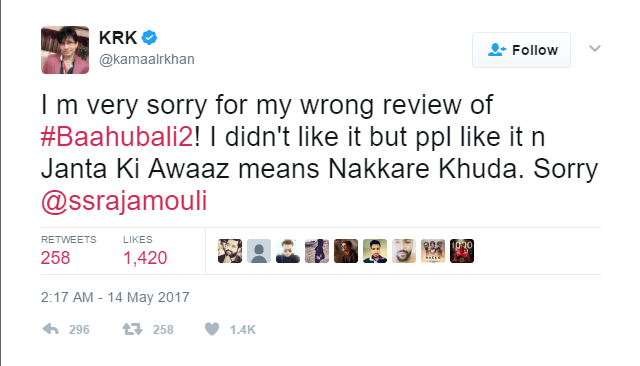 Well, okay then!
'Baahubali 2' fever doesn't seem to die down ever as the audience are still gushing to the theatres to witness the magnificence of the film. (Also Read: 'Baahubali 2- The Conclusion' becomes the highest grossing Hindi film ever)