Kobe Bryant's Death: Abhishek Bachchan, Ranveer Singh and others mourn the basketball legend's passing away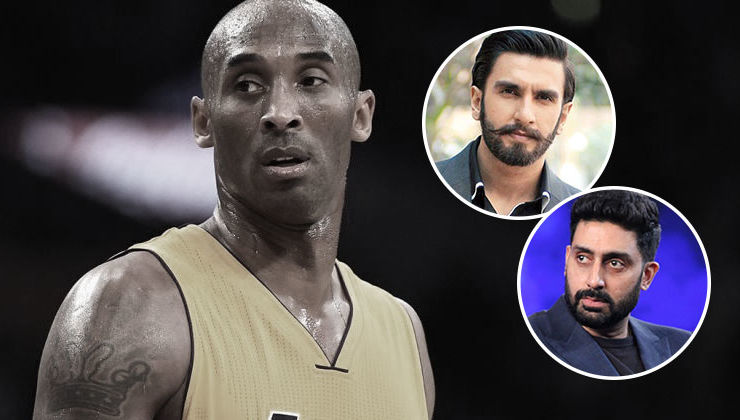 Image Source - Instagram
We were met with one of the most tragic news yesterday when word got out that LA Lakers' superstar player Kobe Bryant passed away. Bollywood celebrities from Ranveer Singh to Abhishek Bachchan all paid tribute to Kobe and mourned on his untimely death.
A report by TMZ Sports confirmed that Kobe was along with five other people in the helicopter before it crashed. Along with Kobe was his daughter Giana who was just 13 years old. Giana was along with her friends and their parents and they all died in the crash.
Ranveer took to his Instagram to express his sorrow.
Abhishek also wrote, "Heartbroken. #ripkobebryant He was such an inspiration. Thoughts and prayers to his family and especially with his daughter Gianna. #Lakernation #mambaforever #8 #24 (sic)."
Priyanka had a rather touching memory attached to Kobe as she wrote, "Kobe Bryant was my first real introduction to the NBA. I was 13 living in Queens NYC, the same age as his sweet little girl, Gianna. He ignited my love for the sport, competition, and striving for excellence. He inspired an entire generation. His legacy is so much bigger than basketball. This heartbreaking accident also took the life of his young daughter, Gianna. I'm shook and so saddened. My heart goes out to Vanessa, Natalia, Bianka, and Capri Bryant. You are in my thoughts. Also sending my condolences to the loved ones of the other family and pilot in the accident. Being at tonight's Grammys ceremony in his home at the Staples Center is going to be surreal. 💔 #RIP #KobeBryant #RIPMamba (sic)."
Arjun Kapoor, Lara Dutta, Karan Johar, and many others gave their condolences as well.
I didn't follow the sport and can't claim to have known too much about him…but this untimely death of a father and daughter just breaks my heart…I hope the universes give strength to his family , friends and fans across the world….#KobeBryant #RIP

— Karan Johar (@karanjohar) January 26, 2020
Well, we hope that the family can survive through this dark time. May their souls rest in peace.
Also Read: Adnan Sami gives a beffiting reply to netizens who questioned his Padma Shri award; later deletes tweet