Twitter reactions to Bobby Deol's disastrous debut as DJ are hilarious AF!
Bobby Deol recently showed off his DJ-ing skills at a Delhi night club and oh-my! Everyone has gone berserk. Not because he was damn cool as a DJ, but otherwise. At least this is what we can deduce from all the Twitter trolls criticising Bobby Deol. Apparently, the star played songs from his film 'Gupt' at the club and party-goers didn't enjoy it that much. In fact a few reports also stated that people asked for a refund from the club authorities.
Well, here are some Twitter reactions that are outrageously hilarious.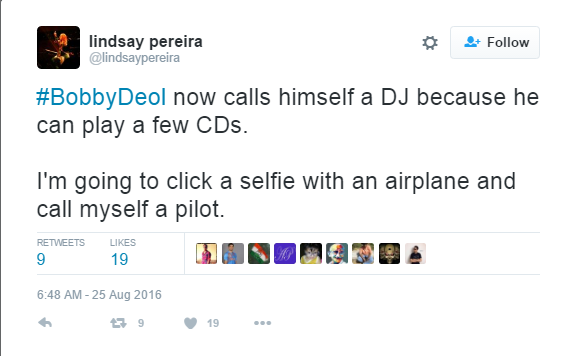 Also Read: In Pictures: This parody account of Bobby Deol is your laughter dose for today!