Unbelievable! Sunny Leone tops Bihar exam with 98.5 marks
Image Source - Instagram
In a comedy of errors, Sunny Leone has topped the Bihar Government's recruitment exam for junior engineers with no less than 98.5 marks. Well, for those thinking that Sunny actually gave the exam, you're mistaken. It was most likely an error by the Bihar government.
In response, here's what Bihar PHED minister VN Jha said,
Bihar Min VN Jha on "Sunny Leone" topping Bihar govt's recruitment exam for jr engineers in state public health engg dept: Results aren't out yet. Vacancies for Jr Engineers were announced&17000 ppl applied.We published their names so if anyone has a query they can tell us.(20.2) pic.twitter.com/PRKpgJORbD

— ANI (@ANI) February 21, 2019
Bihar Minister Vinod Narayan Jha: These are not appointments. Counselling will be done where everyone will have to bring their mark sheet. There is a possibility that some people might have applied under false names. The matter will be resolved when they bring their mark sheet. https://t.co/gcpVUsY1LF

— ANI (@ANI) February 21, 2019
Take a look at the result list.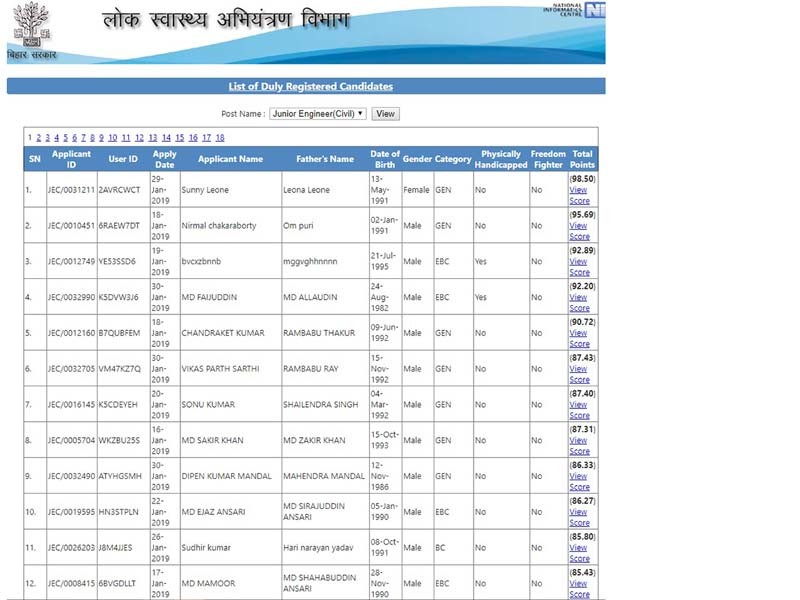 Isn't that funny?
Well, here's how Sunny Leone responded.
&nbsp
HAHA, Im so glad the OTHER me has scored so well !!!!! lol… https://t.co/dV1RTQTN5J

— Sunny Leone (@SunnyLeone) February 20, 2019
Hahaha! We like the fact that Sunny Leone has a healthy sense of humour.
For more such updates, you guys stay tuned to Bollywood Bubble.
Also read: Sunny Leone: I don't see myself as a victim, a soft target maybe