'India's Most Wanted': Is Arjun Kapoor in last chance saloon?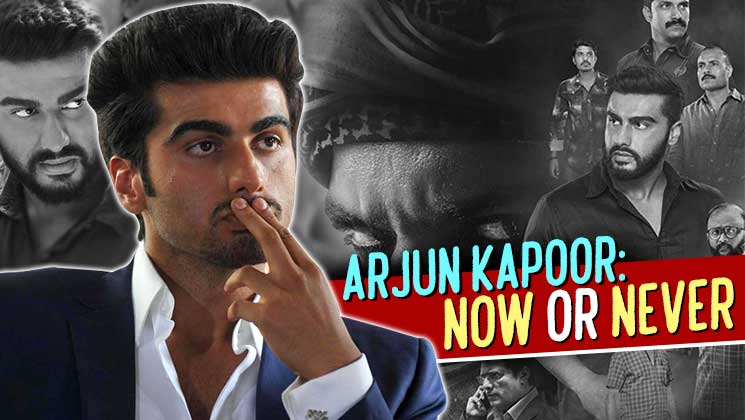 Life is full of ups and downs and it can never remain constant. There will be rough patches and purple patches and it's a cyclical process. The only constant is change. Let's consider these names for a moment – Ranbir Kapoor, Ranveer Singh, Varun Dhawan, Tiger Shroff, Ayushmann Khurrana, Arjun Kapoor, Rajkummar Rao, Vicky Kaushal. If we leave aside Ranveer, Ranbir and Varun (because frankly, they are in a league of their own), one name that stands out and not for right reasons is that of Arjun Kapoor. The big strapping actor, over the last 3-4 years, is struggling and doesn't seem to be coming out of his rut.
So, what is ailing Arjun Kapoor? Is he a victim of bad luck? Is he choosing bad scripts? Are the directors not getting the best out of him? Because Arjun has got every ingredient to be a commercially successful star and some things are definitely holding him back. When you think of Arjun's career, no outstanding films come to mind. And let's not forget that he is not a newbie as he had made his debut way back in 2011 with 'Ishaqzaade' and with a top-notch production house like Yash Raj Films.
Whether one likes it or not, everyone keeps an eye on their competitors and fellow actors. The 'Gunday' actor must be feeling quite down and it is quite natural when the likes of Tiger, Vicky, Rajkummar, and Ayushmann are making a name for themselves.
The '2 States' actor is quite an articulate individual, but there are quite a few shortcomings vis a vis work ethic, lack of fitness, acting abilities, and these things are non-negotiable in the current scenario. As an actor, you should be proactive, vibrant and making smart decisions. And honestly, Arjun just goes through the motions and is not at all exciting or charismatic as a star.
Arjun Kapoor is now 33 years of age and his upcoming release i.e. 'India's Most Wanted' is a very crucial film for him. Arjun's last quite a few releases have been shambolic ('Namaste England, 'Half Girlfriend', 'Tevar', 'Mubarakkan') and you are as good as your last Friday at the box-office.
Arjun Kapoor is fighting a very tough battle and if 'India's Most Wanted' tanks, then his career will face some serious roadblocks. Time and tide waits for none and you have to create and make your own luck. 'IMW' is a very crucial project for Arjun and he has to give a hit sooner rather than later.
Also Read: Can Hrithik Roshan rise like a phoenix and prove that 'form is temporary but class is permanent'