From Amar Upadhyay to Surbhi Chandna-TV stars talk about their expectations from 2021
Positivity, enlightenment and good health are top priorities and on everyone's wish list as we embark on a new beginning with an extremely exciting year ahead of us. A lot has happened since the outbreak of the pandemic, a transformative year as many would call it, the world did witness the greatest health scare. With endless possibilities, it is time to start another new and exciting chapter in all our lives. Television stars talk about their learnings from this year and expectations from the upcoming one!
TV stars talk about their expectations from 2021
Rrahul Sudhir aka Vansh Raisinghania from Ishq Mein Marjawan
Image Source - Instagram
This year was indeed very eventful for me, we saw it all this year. I will surely remember this year forever for the best and the worst reasons. But things started on an extremely positive note and we were pleased to be among the first ones to resume shooting and launch a show! The love I have received from my fans is overwhelming and I am very thankful for whatever 2020 gave. Tough times only makes one stronger and I am sure that this year made me more humble, humane and mature. I only hope next year brings a lot of happiness and the world becomes a better place to live.
Jigyasa Singh aka Heer Singh from Shakti- Astitva Ke Ehsaas Ki
Image Source - Instagram
2020 has been a roller coaster ride for me. The year presented me with immense opportunities and a lead role in Shakti. It was a very challenging role, yet I was happy to get a chance to portray such a unique and interesting character! The lockdown was a blessing in disguise. I cherished the time I spent at home, with my loved ones. Yes, there were hardships and struggles too, but I choose to look at the bright side. And with this positivity, I am ready for 2021!
Simba Nagpal aka Virat Singh from Shakti- Astitva Ke Ehsaas Ki
Image Source - Instagram
2020 has been quite a year for all of us. But for me, it has also been very special. It brought an important role in 'Shakti- Astitva Ke Ehsaas Ki'.  I was very excited to meet and work with people who have continued to inspire me throughout. I have learned a lot from my co-stars and I believe I have improved as an actor. I have missed out on some important aspects of my life like working out and even meeting my friends and family, I wish that I can do it in 2021 I have been concentrating on myself and my work, which I wish to concentrate on in 2021. I will be travelling to Delhi to spend New Year's eve with my family and friends back home. I am grateful, and I hope 2021 brings a lot of good vibes to everyone around the world."
Amar Upadhyay aka Virendra Pratap Singh from Molkki
Image Source - Instagram
It has been a good year for me. This year I got back on the screen as Thakur Virendra Pratap Singh in Ekta Kapoor's new show 'Molkki'. I immersed myself completely in this wonderful new character.  Besides, this year I learned a lot of new things. I became a much better cook and spent time preparing some wonderful dishes for my family, especially the Sindhi Curry! I am grateful for the time I spent with my family, and now find myself full of energy and hope as we enter into a new year! I wish everyone a healthy and prosperous 2021.
Saahil Uppal aka Omkar from Pinjara Khubsurti Ka
Image Source - Instagram
While 2020 was a challenging year, it has taught me to value and appreciate my family even more. Now, as we end the year, I am only looking forward to the next with a lot of positivity. Playing Omkar is a joy, and I am loving the response from fans! I am fortunate to be working on a stellar show with an amazing cast and crew. If not working, I will spend my New Year with my family indoors. Hopefully, I might cook for them too!
Riya Sharma aka Mayura from Pinjara Khubsurti Ka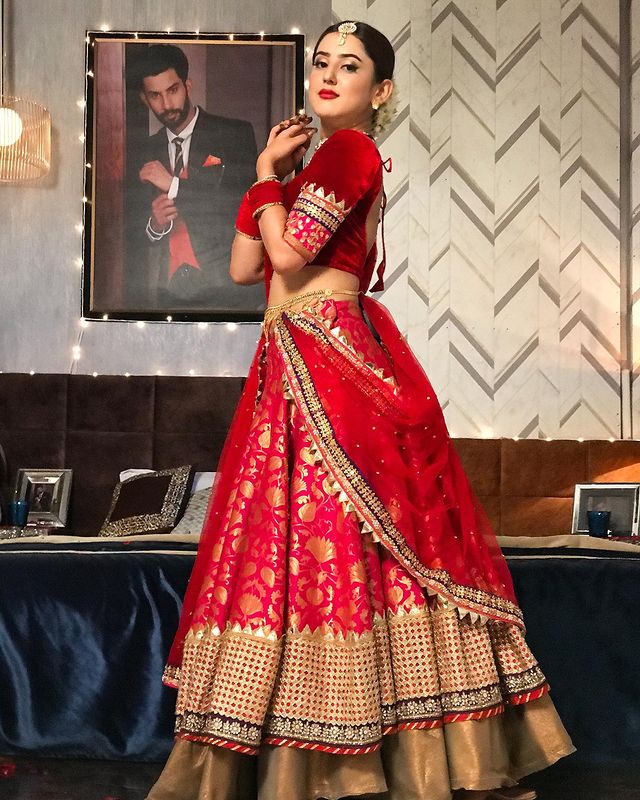 Image Source - Instagram
I am honestly happy to bid goodbye to 2020. It has been a very challenging year for everyone, but I see that things are changing for better now. For me, 2020 fared well as I landed an amazing and powerful role in such an entertaining show like 'Pinjara Khubsurti Ka'. I made some amazing friends and I believe that I also evolved as an artist. I plan to step into 2021 with hope and positivity. I think we can use all the lessons we gained this year and step into the New Year with renewed and rejuvenated passion and excitement.
Surbhi Chandna aka Bani from Naagin 5
Image Source - Instagram
I consider myself blessed that 2020 has been a year of growth both as an artist and as a person. It was all quite overwhelming facing the camera after the lockdown, but my parents gave me the courage. I am thankful to be working on such an interesting show with such a strong legacy! I wish all my fans a very Happy New Year! May all your dreams and unfinished plans be fulfilled in 2021!
Pravisht Mishra aka Anirudh Roy Chowdhary from Barrister Babu
Image Source - Instagram
This year has definitely been a challenging one for us all. To be honest, I am glad to see that it's over! If anything, this year has taught us to be patient and to stay defiant in the face of adversity. But I can say one thing that people have been brave, and we have all emerged stronger. I just wish that the New Year will have us all treat each other with kindness and warmth.
Aura Bhatnagar aka Bondita from Barrister Babu
Image Source - Instagram
I have missed playing outside with my friends the most!  I wish and pray for the new year, to begin with, a lot of happiness and cheer. In 2021, I look forward to learning new things and becoming a better actress. I also want to continue doing Yoga. What I would want to do is to learn to play a new musical instrument! I also pray that all my fans remain safe and have a lovely start to the New Year.
Aditya Ojha aka Yug Pratap Rajput from Namak Issk Ka
Image Source - Instagram
This will be a working New Year for me, and I am glad it is that way. 2020 was one huge learning experience for the entire human race. It has tested us to our core and I feel that we have pulled through rather well. Going into 2021, I hope that people continue to be kind to each other. There's a lot to look forward to in the next year. With 2o20 I made a debut on Indian television, and I hope to gain a lot of fans and look forward to love and support from them. I wish that all the viewers have a great start to the year and that all their wishes are fulfilled!
Also Read: 2020 Wrap Up: From Priyanshu Painyuli to Shreya Dhanwanthary-most loved characters in OTT shows