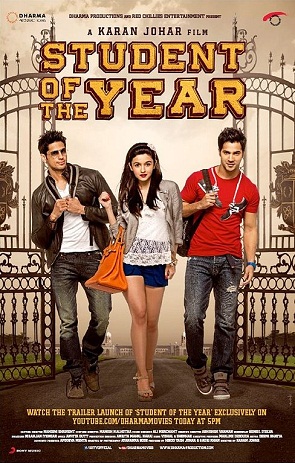 Movie Director: Karan Johar
Cast and Crew: Varun Dhawan, Alia Bhatt, Sidharth Malhotra, Rishi Kapoor
Releasing Date: October 19, 2012
Music Composers: Vishal-Shekhar
Lyricist: Anvita Dutt Guptan
Production House: Dharma Productions, Red Chillies Entertainment
Fun Fact: Sidharth Malhotra and Varun Dhawan had worked as Karan Johar's assistants on the sets of My Name Is Khan.
Why it Made News: The movie launched Mahesh Bhatt's daughter Alia Bhatt, and David Dhawan's son Varun Dhawan, along with a Delhi boy Sidharth Malhotra.
Dean Yoginder Vashisht has fallen severely ill. Several students from his final year at St. Theresa's college are renited and they visit him. That's when they recall their past days, particularly the 'Student of the Year' competition, that shaped their personalities. In its course, many became friends, many friendships broke, some found love, some lost it, some had their perception of success change profoundly. All after greedily vying for the Student Of The Year title.