Gautami Kapoor uploads an unseen honeymoon photo with Ram Kapoor and takes the internet by storm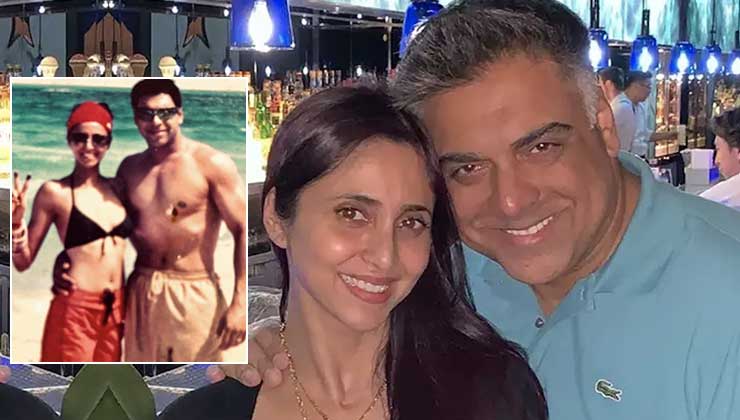 Image Source - Instagram
While actor Ram Kapoor frequently makes headlines, his actress-wife Gautami Kapoor's social media activities are unusual. A recent snapshot shared by Gautami Kapoor on her verified social media profile has taken the internet by storm. Gautami, who is an active social media user, has a good fan following of over 51 thousand on Instagram and keeps her followers amused with flashback photographs, fitness videos, and romantic posts starring spouse Ram Kapoor. 
Gautami Kapoor took to Instagram on Monday to post an old flashback photo of herself and her husband Ram Kapoor, which looks to be a precious memory from their honeymoon. When Gautami posted the photo online, it drew a lot of attention and got people discussing. Gautami captioned the photo, "The year that was… 2003!" 
Gautami is dressed in a black bikini top, red shorts with a black drawstring, and a red headband in the photo. Ram Kapoor, on the other hand, is seen shirtless and wearing beige shorts. The two are beaming for the camera.
Take a look at the post:
View this post on Instagram
Upon seeing the photo, Ram and Gautami's fans who aren't accustomed to seeing the star couple in this avatar, took to the comments section of the post to share their surprise and compliment the duo for looking so fit and charming as always.
One of his fans commented, "Ram mentioned in an interview that his best physique was during his honeymoon.. couldn't agree more." "Omg hahahahaha…ye ram sir ka pet aandar kiyu h," joked another. "Omggggggggg…. The hottest couple is here love you both," wrote another user. "Wow gautami mam you both looking sooo sizzling so rocking so hot creating fire here Thank You for sharing such precious moments with us," commented yet another user.
Gautami and Ram met on the sets of Ekta Kapoor's hit daily serial 'Ghar Ek Mandir.' They married on Valentine's Day in 2003.
Also Read: KKK11 fame Shweta Tiwari celebrated Ganesh Chaturthi with her co-contestants Nikki Tamboli and Sana Makbul, see pics