Boney Kapoor confirms daughter Khushi Kapoor's Bollywood debut; says, "You will hear an announcement soon"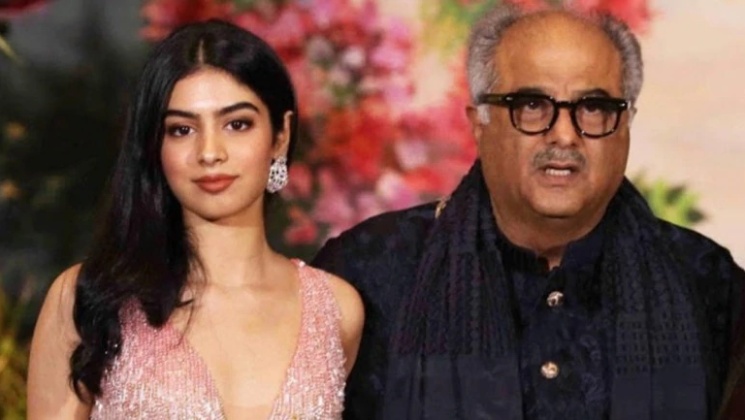 Image Source - Instagram
Khushi Kapoor, daughter of late actress Sridevi and producer Boney Kapoor, is all set to follow her family's footsteps. Boney Kapoor recently hinted at his younger daughter Khushi's debut in Bollywood. He also revealed that Khushi has set her mind at being an actor and there will be an announcement soon. In a recent interview, Boney revealed that he would not be launching Khushi. Boney had launched his brother Sanjay Kapoor a few decades ago, but he said with family 'one tends to get indulgent'.
In the same interview with Bombay Times, Boney said that he has the resources but he would prefer someone else to launch Khushi. Boney said, "I am her father and one tends to get indulgent. You can't afford to do that as a filmmaker and nor is it good for the actor." Boney further said that Khushi will be launched by someone he respects and feels secure about.
Boney had launched his brother Sanjay Kapoor opposite Tabu in the 1995 movie Prem. Prem was directed by Satish Kaushik and written by Javed Akhtar. Citing the example, Boney said, "Anil (Kapoor) was still an established actor, so it didn't affect him much, but I think I became an indulgent brother with Sanjay (Kapoor) when he made his entry into films."
Khushi had made an appearance on BFFs with Vogue Season 3 along with her sister Janhvi Kapoor. At that time, Neha Dhupia asked her about her dream debut and Khushi said she would follow Karan Johar but her father Boney will choose her co-star.
View this post on Instagram
Meanwhile, talking about Janhvi's debut; she was launched by Karan Johar in Dhadak. Janhvi starred opposite debutant Ishaan Khatter. Janhvi and Ishaan's pairing was loved by the audience but the movie did not do so well. Janhvi now has multiple projects in her kitty that will roll out this year soon.
Also Read: Khushi Kapoor's alluring Instagram pics are all about glamour and style