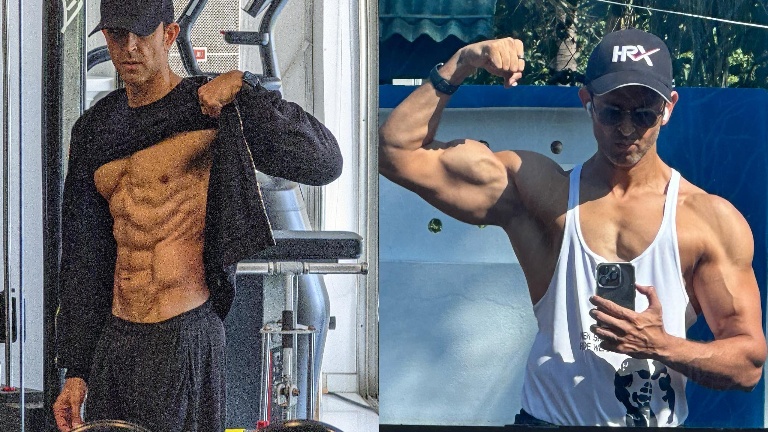 Actor Hrithik Roshan is currently busy fulfilling his professional commitments. And, in the meantime, he is also making sure he maintains a healthy and fit lifestyle. The actor on Saturday took to his Instagram to share a drool-worthy photo of himself flaunting his rock-hard biceps. He also penned a long note and revealed his fitness secrets in the post.
Hrithik Roshan reveals fitness secrets as he flaunts biceps
Taking to his Instagram, the Fighter actor shared a throwback photo of himself, showing off his perfectly toned biceps. He is flaunting his perfect biceps while posing for a selfie in front of a mirror. Hrithik, who is filming for his movie Fighter revealed what helped him change his course. The actor wrote an inspiring note, asking his fans to meditate for some time, everyday. He revealed that 'diet' and a good 'sleep score' can help you lead a fit life.
In his note, Hrithik wrote, "When the diet n sleep score is on point , it feels so good.
Took this in November 2022. Currently serving as a reminder not to deviate or let go too much while on kids spring break. It's funny how food and sleep – the easy sounding ones is where most of us fail. Cause they require a quiet mind n content disciplined days. Whereas training n gym is so simple cause it requires aggression which is somehow easier to access than quiet joy."
The actor added, "What has helped me change my course and up my joy is meditation. Sounds so boring. But once you give it enough time , magical things happen. I started with 10 mins a year ago. And today an hour seems less. haveyoutriedmeditationyet sitstill mindcontrol superpower slowdowntospeedup."
Earlier, on Holi, Roshan celebrated the festival with his family where they practiced meditation and yoga together. Sharing the video, the actor wrote, "No rang or bhang , just sweat n fun ! A customized whole gang Holi morning workout."
Meanwhile, it was only recently that Hrithik attended the screening of Rocket Boys 2. He was clicked with his girlfriend Saba Azad. Roshan and Saba Azad also posed for photos at the screening of Rocket Boys 2.
On the work front, the actor has the Siddharth Aanand directorial titled Fighter with Deepika Padukone and Anil Kapoor in his kitty. Hrithik recently wrapped up one shooting schedule of Fighter. He even has a few other projects in the pipeline.