Karan Johar slammed by Twitterati for his sexist questions on 'Koffee with Karan 6'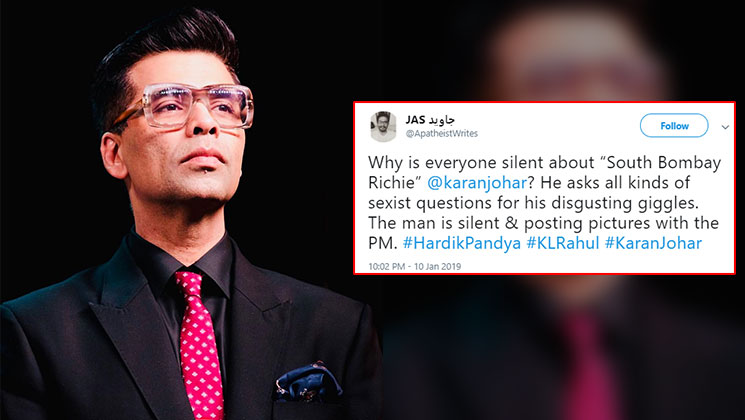 Image Source - Instagram, twitter.com
Bollywood director Karan Johar is now embroiled in a huge controversy related to his show 'Koffee with Karan 6'. During last week's episode (January 5), Indian cricketers Hardik Pandya and KL Rahul appeared on the show and created quite a furore.
Apparently, Hardik Pandya got carried away and made some sexist and misogynistic comments on the show. The Indian all-rounder bragged about his sex life and now he finds himself in big trouble. But, Twitterati is also not impressed with Karan Johar's silence and have slammed the 'My Name Is Khan' director. KJo was criticised by netizens for asking sexist questions.
Check out some of the reactions:
Criticism of #HardikPandya for his comments on #KoffeeWithKaran is right. But why no one's questioning Karan Johar for sexist questions he asks?

Rate women in bollywood basis their "sex appeal"

Why that's not problematic? Or he's spared cuz he calls himself a Feminist?

— Deepika Bhardwaj (@DeepikaBhardwaj) January 10, 2019
Why is everyone silent about "South Bombay Richie" @karanjohar? He asks all kinds of sexist questions for his disgusting giggles. The man is silent & posting pictures with the PM. #HardikPandya #KLRahul #KaranJohar

— JAS جاوید (@ApatheistWrites) January 11, 2019
And don't come up with, it's a chat show, the Qs will be like that only.. Then lll say, it's #HardikPandya, he's like that only.. He was egged on, he got carried away, we all do sometimes.. Isn't #KaranJohar a perpetrator as well? Pull him the hell up. Y target only the two boys?

— Shireen M (@ShireenM6) January 10, 2019
When people look up to u as a role model n u inspire the society, ur every word n action matters. Why only #HardikPandya Shud b pulled up, y not #karanjohar for airing such derogatory comments#koffeewithkaran

— Krishna Mukherjee (@krishankarmukh) January 10, 2019
@karanjohar I used to like many of your movies. Your coffee though turned out very expensive for a very hard working lad @klrahul11 who has sacrificed so much to get to where he did. Please take care of the script going forward & do air what is apt! #KaranJohar

— kartik thyagarajan (@kartikt) January 10, 2019
Sadly the man (#karanjohar) who should have steered the interview towards mutual respect towards women chooses to remain quiet. He did the same thing with Kangana Ranaut. Lest we forget. #KanganaRanaut

— Graham Miranda (@grahammiranda7) January 10, 2019
Irrespective of BCCI's reaction mindset of these two guys on the show remains regressive & #KaranJohar 's laughter doesn't add any cool quotient to these kind of repulsiveness being televised.

— Tania (@Stania09) January 11, 2019
Hopefully, Karan Johan will break his elusive silence and offers his clarification on the whole issue.
Also Read: 'Koffee with Karan 6': Hardik Pandya and KL Rahul's episode gets pulled down after outrage