Karan Singh Grover: Bipasha Basu pushed me towards painting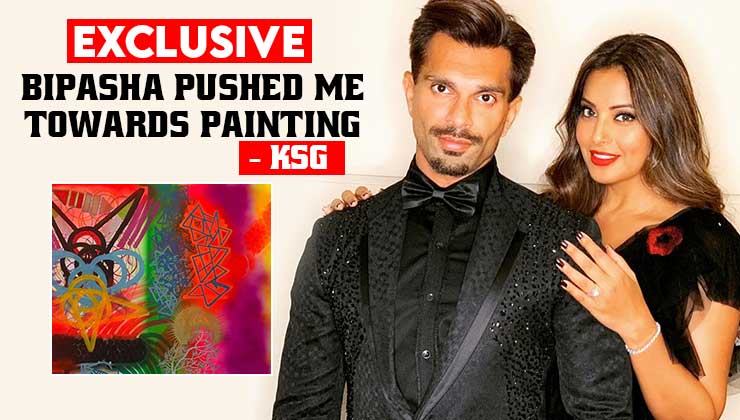 Image Source - Instagram
Alongside acting, Karan Singh Grover has got a newfound passion of painting and sketching, and he has been posting numerous hand-drawings on his social media. A sketch of his has been trending on social media suddenly since the past two days, and it has got everybody talking as to what is KSG trying to portray via his artwork.
So much so ever other celebs like Sussanne Roshan shared the paintings on her social media pages. Karan Singh Grover indeed is damn good at this. Have a look:
People have been commenting on the post about from where Karan Singh Grover got into this habit of painting and artwork. So we remembered a recent interview that we had done with the actor, where he had revealed a lot about how Bipasha pushed him towards painting and artwork.
During the interaction with Bollywood Bubble, Karan Singh Grover had spoken up about the whole thing. He had said, "I am fortunate that I have another dimension to being an artiste. Not only performing arts but I'm painting also now. That also has happened because of Bipasha. For me, I always used to have a pen or a paper in my hand, and if I felt something I used to draw it out, and it didn't have to mean anything. It's something that happened on its own naturally. I used to crumple the paper and throw it later when I was done with it. So one day I was making one such, and Bipasha asked me what it was as it looked interesting. So I told her it means dreaming birds. So she asked what does it mean. So it was about a child who was in the womb and right before the soul enters the body, you dream about the highest life that the child can have in the best possible way. So basically god's plan for you. So the transition. And Bips was like 'Really, it means that'. She said it seems like some really interesting stuff, so make some more. So I started with a black pen and ink and now I use everything."
Quite an interesting tale, we must say! After all, love makes you do so many wonderful things, isn't it? And Bips and KSG's love story has indeed a lot of tales. Have a look at the entire conversation right here:
Talking of their love story, Karan Singh Grover and Bipasha Basu's love story has been one of the cutest that we have seen in recent times. The way the keep calling each other with monkey nicknames is too cute to handle. Their PDAs on social media is something that we all keep envying about. While their last project together 'Dangerous' didn't get a lot of eyeballs, but their chemistry was indeed spoken a lot about. Let's wait and watch when the two decide to come back together onscreen.
Also Read: Karan Singh Grover shares health update on 'Dangerous' co-star Natasha Suri; confirms Bipasha Basu is in touch