Sonakshi Sinha on Akshay Kumar's prominence in 'Mission Mangal' poster: Jo bikta hai, voh dikhta hai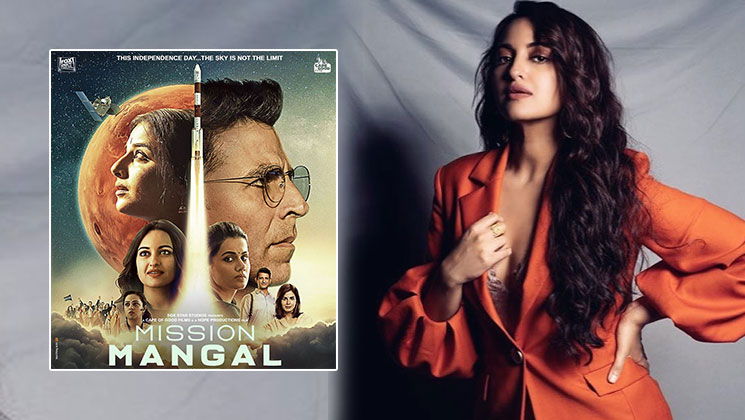 Image Source - Instagram
With changing times, Bollywood films are evolving too. In the post #MeToo era, our films are trying to portray much more balanced stories. In the last few years, we have seen how women-centric films are working wonders at the box-office. Jagan Shakti's upcoming film 'Mission Mangal' is a space drama featuring Vidya Balan, Akshay Kumar, Taapsee Pannu, Nithya Menen, Kirti Kulhari, Sharman Joshi, H. G. Dattatreya and Sonakshi Sinha.
The film revolves around the scientists of Indian Space Research Organisation (ISRO) who contributed to Mars Orbiter Mission. In the film's trailer, we saw how the women's team works tirelessly to make the mission successful. However, the film's poster saw Akshay Kumar dominating everyone else. This led to a debate on social media with people asking why Akshay got the bigger display on the poster.
Recently, Sonakshi was asked about her views on this debate. The actress told Hindustan Times, "Akshay Kumar is the biggest star in the film! Someone had told me very long back (smiles) and this line has stuck in my head: 'Jo bikta hai, voh dikhta hai'. Today, if you see Akshay's collections, he's the highest-selling star in the entire film, that is why his face is bigger on the poster."
Earlier, Taapsee to had shared her views on the same and told the daily, "Because Akshay Kumar will get the audience in the theatre, that is the hard fact. All of us are doing great work in our own capacities. But, he will still manage to get a bigger number, at the end of the day. We cannot run away from this reality."
Well, let's see what Vidya Balan and other actresses of this space drama have to say about the same. Until then, keep watching this space for more such interesting updates.
'Mission Mangal' is scheduled to hit the silver screens on August 15.
Also Read: Akshay Kumar on 'Mission Mangal's message: "Women are better and more powerful than men"