Taapsee Pannu has a problem with Rani Lakshmi Bai being referred to as 'Manikarnika'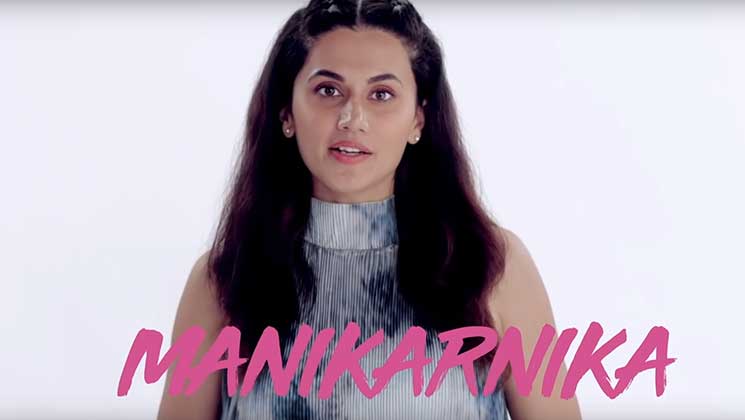 Image Source - YouTube
Taapsee Pannu is one of the very few actresses in Bollywood who never shies away from taking the bull by the horns. She is someone who has always spoken up about what's right and what's not. She is also someone who always fights for women's rights and her latest video is testament to the same. Taapsee begins her monologue by saying that she is upset that Rani Lakshmi Bai is called 'Manikarnika'.
Not only that, Taapsee also goes on to specifically point out words in Hindi and English where men are given more preference than women. Check out the interesting video right here:
The video is an introduction to Amazon Prime's 'Laakhon Mein Ek's new season which stars Shweta Tripathi. Taapsee goes on to also hit out at society for associating courage to men by saying things like 'Grow a Pair' to 'Don't be a pussy'.
'C'mon man, grow a pair', 'What a ballsy move', or just 'Man Up', all expressions of courage, bravery, daring are essentially masculine. Whereas, when you need to shame someone, a phrase like 'don't be a pussy' is enough. And let's not even get started on how all expletives stem only from female anatomy. And what's even more shocking is that we are so conditioned to usage of these terms.
Taapsee Pannu never shies away from calling out bullshit and this video is proof of the same, where she is at her satirical best. The actress admits, that since we anyway casually stereotype men as courageous and women as cowards, why not do away with the popular phrase, "Maa Ka Doodh Piya Hai Toh" as well.
The video raises many pertinent questions and shakes one into realization of how even casual usage of terms contributes majorly to already rampant sexism. The initiative is garnering praise from all quarters and is being called as a major win for gender equality, something that truly is the need of the hour.
Kudos Taapsee for such a fantastic initiative.
Also Read: Instead of Taapsee Pannu, will Deepika Padukone play Amrita Pritam in Sahir Ludhianvi's biopic?