'Arjun Patiala' Movie Review: A futile attempt at tickling your funny bone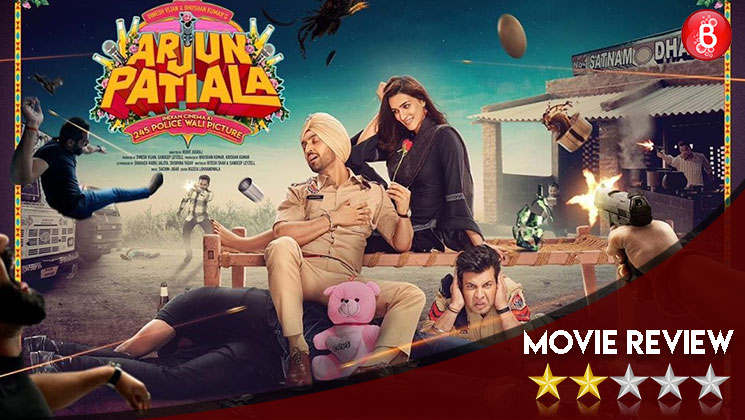 Directed By: Rohit Jugraj
Produced By: T-Series and Maddock Films
Cast: Diljit Dosanjh, Kriti Sanon and Varun Sharma
Bollywood Bubble Rating: 2/5
Despite having its heart in the right place, 'Arjun Patiala' fails to meet your expectations. There aren't many memorable jokes and were it not for Diljit Dosanjh and Varun Sharma's natural comic timing, the movie would have definitely given you a headache.
The movie revolves around Arjun Patiala (Diljit) who is an honest cop. He falls in love with Ritu (Kriti) who is a reporter. Onida (Varun) is just Arjun's sidekick. To make their zone crime free, Arjun and Onida hatch a plan. They make all the criminals fight amongst themselves. The movie takes a bizarre turn in the second half and becomes obnoxious. There are a few cheap gags (which are somewhat funny) in the last 10 minutes or so and that redeems the film a little bit.
As far as performances are concerned, all the actors do a fine job and that is the only saving grace of the film. Kriti turns her A-Game on once again, and you can't fault her in a single scene. Diljit and Varun are at their natural best, and it seems like they didn't have to make any effort to play their characters.
The real villain of the film is the script which seems to have been tweaked so many times that it has lost its essence. If they had stuck to making every scene a spoof, it would have been great. Alas, they try to do too many things.
Final verdict:
If you do decide to watch this film after reading the review, you deserve a bravery award.
Watch trailer: