'Notebook' Movie Review: A unique love story that will fill your heart with light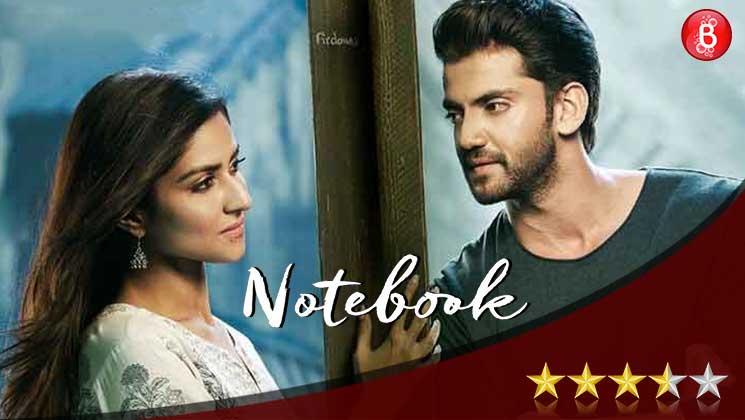 Directed By: Nitin Kakkar
Produced By: Salman Khan
Cast: Zaheer Iqbal, Pranutan Bahl
Bollywood Bubble Rating: 3.5/5
Can you fall in love with someone you've never met and seen? Yes, you can if you get to know them through the prism of their thoughts that they've jotted down in a notebook. To make such a outlandish premise seem extremely realistic and convincing is no mean task, and the cast and crew must be given full marks for their sincerity.
In Nitin Kakkar's 'Notebook', Firdaus (Pranutan) and Kabir (Zaheer) portray primary school teachers in a remote Kashmir village. There are no roads here, and people commute using boats. Kabir steps in when Firdaus has to leave the school for personal reasons. With time, he falls in love with her by reading a notebook where she has captured her experiences in the school. Along with the two of them, the movie also features 7 wonderful children who have their own sub-plots (all of them are cute as a button).
In a way, the movie feels like an extremely interesting extended diary entry of two people. Nitin weaves those entries into a believable plot and sets it against the picturesque backdrop of Kashmir. The result is a film that will certainly hit home with the die-hard romantics.
The newcomers – Pranutan and Zaheer – are extremely good, but you feel that they don't really have a difficult job at hand. Instead of Zaheer, the likes of Sushant Singh Rajput, Varun Dhawan or any other decent actor could have done an equally adept (if not better) job. This is to say that they are good, but they lack the X-Factor that we see in actors like Ranveer Singh ('Band Baaja Baaraat').
It remains to be seen whether the film manages to draw in enough audiences. If it does, I am sure the word of mouth will be positive and the movie will make a neat profit.
Final verdict:
This is a film that you can watch with children, you can watch with your partner and you can watch Alone. To cut a long story short, go and watch the film asap.
Watch trailer: