Coronavirus outbreak receives a Bollywood tadka by netizens; check out the most hilarious memes here
Image Source - Instagram and Twitter
Coronavirus scare is not going to subside anytime soon. With every passing hour, we are being bombarded with so many information. And that in itself has become a cause of worry and confusion. Amidst all this chaos and panic created by the situation, there's only one thing that can give you a temporary respite from it and it is this wonderful marriage of Coronavirus and Bollywood memes.
As usual, netizens have again found a reason to look past the gloomy times and here they are providing us all with some comic relief. Troll's Bollywood tadka to Coronavirus scare will definitely make you ROFL.
Social media is a wonderful place to be in if you are trying to get your mind off stressful things and currently the entire nation is reeling under the effect of Coronavirus outbreak. So what can be a more enticing topic for the trolls now? Amidst the health scare, this meme fest will most certainly bring a huge smile on your lips. After all, life is dull without humour. Isn't it?
You all must be aware of the famous 'Go Corona' chant…now check out your favourite stars chanting the same. Zor se bolo 'Go Corona'…Saare Bolo 'Go Corona'. Thank You.
The telecom companies have started advising people to take necessary precautions with every single call. So the following meme is exactly everyone is feeling right now.
The prices of hand sanitizer are literally hitting the roof
Me and my friend trying to buy a hand sanitizer from a pharmacist. pic.twitter.com/jWObDiv3bR

— Sagar (@sagarcasm) March 13, 2020
Agar maa ka dhoodh piya hai toh saamne aa Corona. Arre… I was just kidding bro.
When you wanna fight but you're too scared of Coronavirus. #coronavirusinindia pic.twitter.com/HfGZv4PBk6

— Sagar (@sagarcasm) March 12, 2020
Where are you Summer?….Ab aa bhi jao.
UNICEF ~ Corona Virus Will Not Survive In High Temperatures Or Summers…

Indians ~ It's Already March, Dear Summer, Tum Kab Aaoge ??

*Le Summer ~ pic.twitter.com/oybImVA0pf

— Babu Bhaiya (@Shahrcasm) March 5, 2020
Have you met Kareena -Virus yet? Don't worry they are Corona negative.
Now, this seems to be a legit idea. Isn't it?
Oh god… please save my country.
Many countires under total lockdown.#coronavirus patients are under quarantine worldwide.

Meanwhile some foolish CoronaVirus +ve patients in India👇🏻 pic.twitter.com/tCi7xOwAc5

— The Iatrogenic Doctor🇮🇳👨🏻‍⚕️🩺💊💉👻🦠 (@Dr_Paramomycin) March 16, 2020
Take a chill pill Corona. Or better why don't you get lost?
#Coronavirus today in Pakistan pic.twitter.com/zpqbPFd1vD

— lost (@AliHaiderkhan08) March 16, 2020
So all you cinephiles out there are you ready to watch "Corona Pyaar Hai?"
That pain…Oh My God. ..Yeh din dikhane se pehle mujhe utha kyun nahi liya.
Jaa beta jaa…I mean doctor ke paas jaa please.
People with normal fever : "We should stay at home and take rest".

People with coronavirus :- pic.twitter.com/ceju9FdofO

— Mask (@Mr_LoLwa) March 5, 2020
I feel this meme on so many levels. Phew.
Even Simran knows her priority…Raj can you be please a little more careful? As love in the times of Corona is not easy bro.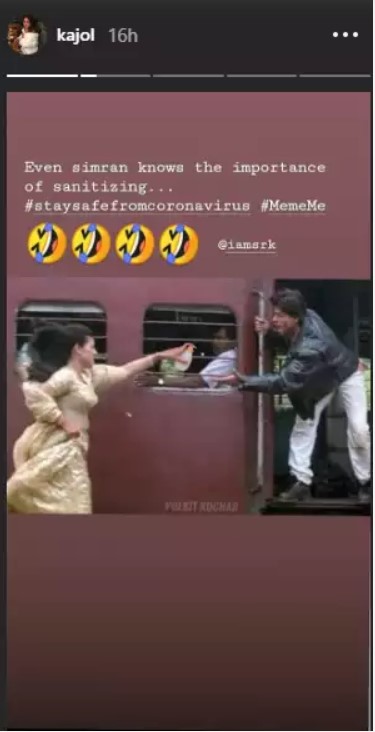 What about you?
Me: What's your favourite song these days?

My Hyderabadi friend: Sathiya tune kya kiya, maine kiya tera intezaar… Itna #corona mujhe pyaar. 😂

— Bhavesh malvi (@imbhaveshmalvi) March 5, 2020
This is the last one…I promise.
I hope these memes succeeded in bringing a smile on your face. And for more such interesting updates keep watching this space.
Also Read: Coronavirus Outbreak: Amitabh Bachchan, Deepika Padukone, Katrina Kaif, Hina Khan, Mahira Sharma share tips to stay safe