'Manikarnika' controversy: Sonu Sood lashes out at Kangana Ranaut; Read Details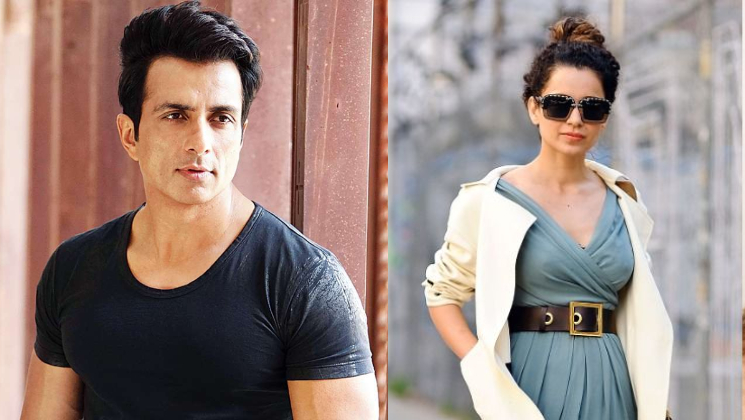 Image Source - Twitter
Three-time national-award winning actress Kangana Ranaut and her latest film 'Manikarnika: The Queen of Jhansi' has been surrounded with many controversies i.e. right from Sonu Sood's exit to Krish's fight over the direction credit to actor Mishti Chakraborty expressing her disappointment. Though the film has been already released and turned out to be a blockbuster at the box office, it seems that the controversies are not going to end at anytime soon as the verbal spat between Kangana, Sonu Sood and director Krish continues.
Notably, Sonu Sood, who was supposed to play the role of Sadashivrao Bhau, reportedly quit the film when Kangana took over the director's seat after co-director Krish's unexpected exit. However, in an exclusive interview with Spotboye, Sonu lambasted Kangana Ranaut.
Giving out his opinion on film 'Manikarnika', Sonu Sood said, "Well I have seen Manikarnika. First, I saw it when I was a part of it. Then, I saw it but in parts. It looks nice. I am proud that I was once a part of it."
On being asked about the reasons of quitting 'Manikarnika', Sonu answered as saying, "I was narrated a particular role by a particular director. So I was really looking forward to working with Krish (original director) and playing Sadashiv. But when both the things were no longer a part of Manikarnika, I decided to quit. If there would have been any other actor, he would have done the same. Even if Kangana would have been in my shoes, she would have done the same. Accordingly, I took the call at that time – and I still feel it was right."
Replying to the allegations on sabotaging the film, Sonu said, "I can never sabotage Manikarnika, as the subject is very close to me. My mom use to give me lessons about Rani of Jhansi. I am proud we made this film and I want this film to do really well. I have always maintained, Kangana has been a friend. I am very close to her family. I wish the best for her in whatever she does. I just said the truth with regards to my bond with Krish and whatever the other facts were. So, the question of sabotaging the film does not arise."
When Sonu was asked about working with Kangana again, he said, "Of course I'll work with Kangana if something good comes up. Never say never. Whatever is destined to happen, will happen. If something nice comes up, why not? I have nothing against Kangana. I wish her luck and happiness in whatever she does."
Answering to a question of not taking orders from a female director, the actor said, "I have worked with Farah Khan in the past. I have previously worked with many female DOPs and directors down South. If any female director calls me to act in her film, I am definitely not going to think about the gender. No one is stupid enough to think all these things."
'Manikarnika: The Queen of Jhansi' also features Ankita Lokhande, Jishu Sengupta, Atul Kulkarni, and Manish Wadhwa in pivotal roles.
Also Read: Kangana Ranaut slams Sonu Sood for maligning 'Manikarnika: The Queen of