Sonam Kapoor on returning back to India amidst pregnancy: Anil Kapoor would hate to say this but my father is 63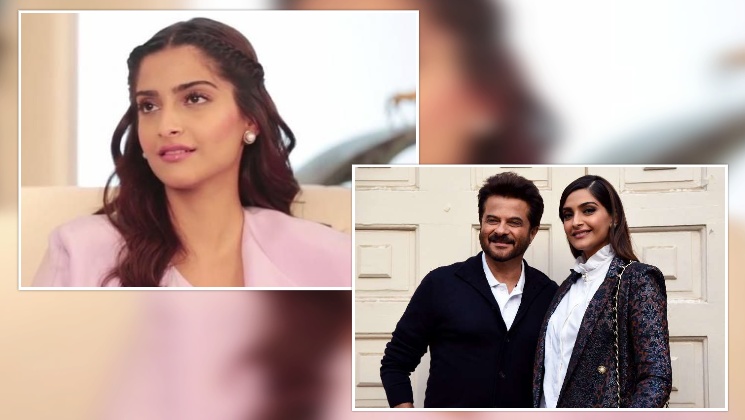 Image Source - Instagram
The novel Coronavirus has been spreading rapidly all over the world and people have been advised to stay indoors with lockdowns being imposed in most countries. International flight services have also been stopped for a while in India and thus, Bollywood actress Sonam Kapoor with her husband Anand Ahuja made sure to land in the country from London. Sonam said that she felt it was important to be with her family during this crucial time.
In an interview with Film Companion's Anupama Chopra recently, Sonam explained over video chat, why she came back to the country with her husband. The actress said that they felt it was important to be by their parents' side in this crucial time, she said "I decided to come back to India right before the travel ban was imposed just because my father (actor Anil Kapoor) is 63. He'd hate to say this but he is 63, my mother is 63 as well. We all stay with Anand's grandmother who is also around 80 years old. There was no one actually in my husband's house just in case something happened to be there and take care of everything. So Anand and I did the responsible thing to fly back even though we were so scared to fly."
Sonam had documented her experience of flying back to India from London on her Instagram stories. The 'Neerja' actress started the video by thanking everybody at the airport, and the ones on the flight for a 'smooth and responsibly done' journey. Sonam surely inspires us to take care of our family in this uncertain phase of COVID-19 lockdown.
The deadly Coronavirus is spreading like a wildfire, which started off infecting people from Wuhan (China) and now it's all across the globe. More than 200 positive cases have been registered in India so far and the numbers are increasing by the day.
Also Read: Sonam Kapoor asks if vegetable vendors have shut shop; trolls suggest, "Utilize this lockdown and work on your IQ"