'SMS' actor Neeraj Sood: Love doesn't happen to have a physical relationship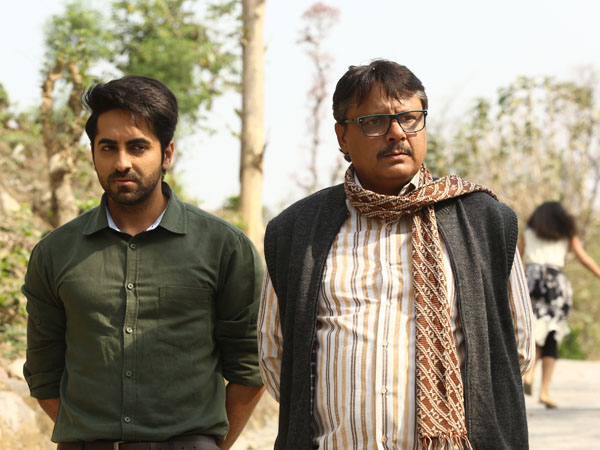 Neeraj Sood, who has made a mark in the industry with his performances in 'Band Baaja Baaraat', 'Rocket Singh: Salesman of the Year', etc. has recently impressed everyone with his act in 'Shubh Mangal Saavdhan'. He has very well portrayed the role of Bhumi Pedenkar's father in the movie.
We recently, interacted with him, and he has spoken about a lot of things like 'Shubh Mangal Saavdhan' dealing with sensitive issue of erectile dysfunction, character artistes not being promoted by the filmmakers, etc.
Excerpts from the interview…
'Shubh Mangal Saavdhan' deals with a very sensitive issue. As a senior actor were you not concerned that this film might turn out to be vulgar?
When I read the script for the first time, I understood it was a very sensitive issue which had to be dealt with to not make it look or sound vulgar for which a good script and dialogues are required. And our writer Hitesh Kewalya has done a fab job. Also the actors have performed them on screen so well along with the execution of our director without whom it wouldn't have been possible.
Have you met someone in real life who had an issue of erectile dysfunction?
Well, I come from a city where such things are still not discussed. These days advanced education has taught us so much, but still discussing this topic is either laughed out or just not spoken. Well, I have never come across such a person that is because in Indian society such things are still not discussed with an ease.
If in a situation, Neeraj Sood's daughter falls for a man who faces the same issue, what would you do?
(Laughs) You put me in a dilemma with this question. If I had a daughter and she would fall for such a man then I would probably do the same as Bhumi Pdenekar's father (me) has done, get the boy treated from a doctor. Because it's the matter of love. 😉
Do you think for a successful marriage s*x is more important than love?
No, I think it is vice versa. If you have love in your life a lot can be managed with it. Love doesn't happen to have a physical relationship. The theory I believe is love is a different spiritual feeling anyone can have in life.
You are paired opposite a very talented actress like Seema Pahwa. How was it working with her?
I am a huge fan of Seema ji (Pahwa) from the time of 'Yeh Hum Log' daily soap. I was very happy when I was told that I was paired opposite her because she's been my senior during theatre days. The NSD I have passed out from Seema ji too has worked in the same NSD repertory and it has been a great experience to work with her since then.
You have been playing supporting roles since a long time. But, you are very far away from the limelight. Do you feel if filmmakers promote supporting actors properly they can also be as famous as the lead actors?
Yes, you're right. Character artistes are not promoted that well in our industry and even if they've got it that is because the director and producer have planned in such a way. If directors and producers want, character artistes like us can also be promoted well and get the benefits of the film released which has started trending I feel.
After 'Shubh Mangal Saavdhan', which movies you have in your kitty?
I am working on a few projects about which I cannot talk. Other than that I have completed films like 'Dil Phirre', 'Fulena Nights', 'DNA Mein Gandhiji' and 'Yahan Sabhi Gyaani Hai' which are soon to be released.