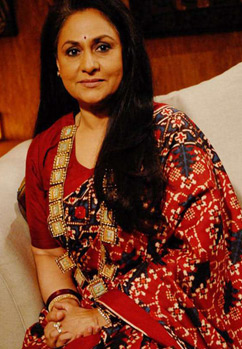 Birthday09 April, 1948
Zodiac:Aries
Fun Trivia:Jaya made her film debut at the age of 15.
Famous Quote:Motherhood means everything.
Born into a Bengali Hindu family in Jabalpur, Jaya Bhaduri, better known as Jaya Bachchan, made her film debut as a teenager with the 1963 Satyajit Ray film Mahanagar. Her debut as an adult, however, happened eight years later with Guddi (1971), for which she was widely appreciated. Jaya went on to act in films like Uphaar, Koshish, Kora Kagaz, Zanjeer, Abhimaan, Mili and Sholay among others and established herself as one of the leading actresses of Bollywood. Winner of nine Filmfare Awards and the coveted Padma Shri Award, Jaya is married to Amitabh Bachchan since 1973. The couple has two children from their marriage – actor Abhishek Bachchan and Shweta Bachchan.