Doctor Strange REVIEW: Benedict Cumberbatch's multiverse is truly madness but Elizabeth Olsen as Scarlet Witch is a gamechanger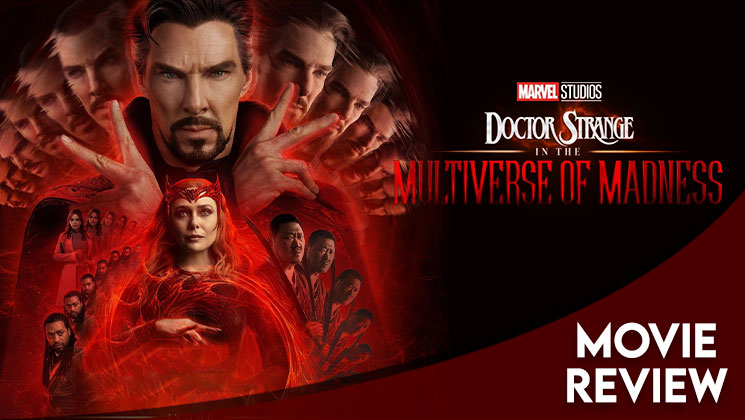 Image Source - Instagram
Doctor Strange REVIEW: Benedict Cumberbatch's multiverse is truly madness as we witness multiple realities
Film: Doctor Strange in the Multiverse of Madness
Cast: Benedict Cumberbatch, Elizabeth Olsen, Benedict Wong, Rachel McAdams, Chiwetel Ejiofor, Xochitl Gomez
Bollywood Bubble ratings: 3.5 stars
Okay, I don't know where to begin with. Considering that it is an MCU film and probably even the most highly-anticipated film of this year, I'm having a hard time talking about Doctor Strange in the Multiverse of Madness and reviewing it without spilling too many beans. So, please bear with me as I'll try to review the movie. After the mega success of Spider-Man, fans were pretty psyched to know about Doctor Strange and the madness of the multiverse. It wasn't as gripping as one would expect, but it is surely a visually magnificent film (even though didn't get the chance to watch it in 3D). From the first frame itself, Doctor Strange in the Multiverse of Madness ensures that the film is going to treat you with multiple realities which are quite riveting. We have seen before that there are different realms and different dimensions in Marvel Cinematic Universe and well, this latest outing gives us more idea of the same. It gives us more details about when magic meets evil. Read more about Doctor Strange in this review here.
STORY: 
A girl named America Chavez (Xochitl Gomez) meets Doctor Strange (Benedict Cumberbatch) in the strangest way possible. However, trying to understand the multiverse closely, Strange takes the help of the Scarlet Witch (Elizabeth Olsen) in order to protect the young girl and her unimaginable powers. Nevertheless, things get a little messier when Strange enters the multiverse of strange and madness just to find some answers. It not only explores other realities but also makes you even doubt the one that he lives in. On a quest to find answers, Strange faces the dark side of the multiverse and himself which makes him question himself. Due to his recklessness, Strange opened to multiple realities. He finds out the truth by going through different portals which itself is a roller coaster ride. However, will he succeed in his journey? Will he be able to provide protection to the young girl? Can the Scarlet Witch help Strange? The answers to these questions can be found after watching the film. 
STAR PERFORMANCES: 
Benedict Cumberbatch as Doctor Stephen Strange is pretty complicated in this part who is usually seen to be the most sorted and composed character of MCU. He plays the character with utmost ease. His one-liners and his straight-face humour will surely tickle your funny bone but it seemed like his character has certain limitations. On his way to understanding the multiverse, Stephen Strange also comes to face with his inner evil. It is his journey to understand the good and bad, the white and black which sort of overlaps. Benedict is a top notch and plays his part perfectly well.
View this post on Instagram
Elizabeth Olsen as Wanda Maximoff is a game changer, a thunder stealer. She is the chaos in the calm and composed life of Strange and that's what makes her quite a fascinating character. In this latest offering, we see her coming straight from WandaVision and oh boy, she is a delight. Her transformation from a loving Wanda to a feisty Scarlet Witch is pretty intriguing as well as eerie. She will make you angry but has the ability to make you feel empathetic towards her character at the same time. Elizabeth has a meaty and long screen time. In some parts, she even outdoes Benedict with her strong and powerful presence. She is a revelation and a Scarlet Witch that you've never seen before.
Benedict Wong as Wong is amazing with his sidekick antics. He plays the sorcerer supreme and adds a little gravitas to his character. 
Rachel McAdams as Christine Palmer has more to offer this time rather than in the previous film. She gives a little emotional touch to Strange's character and their dynamic is pretty heartbreaking.
Xochitl Gomez as America Chavez is refreshing. She shines in the limited character screen space, and also, adds more weight to the concept of the multiverse.
Supporting cast of the film is hands down amazing which will surely make you scream and undoubtedly will draw whoops of delight in the theatre. A lot of cameos make appearances that add more value and mass to their limited screen time.
DIRECTION/ VISUALISATION: 
Given the fact that Sam Raimi, the director, is a prolific filmmaker when it comes to horror movies, he adds his flavour to the film. He took the entire cinematic liberty for this latest outing. The intense action scenes and the constant change in the universe give us less breathing space, it takes time to wrap your head around to the next scene. I won't say that VFX were up to the mark as there were a few glitches but it was quite enthralling. The back to back universe shift scene will give an adrenaline rush. Since Stephen Strange is exploring multiple parallel universes, it would have been better if the universe was explained a bit. The timelines seemed quite confusing. However, what was amiss was the horror element that Sam has added. Even though his intentions and vision were clear, certain parts of the film seemed quite off.
CONCLUSION: 
Overall, I give Doctor Strange in the Multiverse of Madness 3.5 stars. Needless to say that it is a theatre watch film.
Watch the Doctor Strange in the Multiverse of Madness trailer here:
Also Read: Doctor Strange 2 star Benedict Cumberbatch picks this superstar over Hrithik Roshan for MCU