Friends The Reunion Episode: Grab tissues as emotions run high with tears, joy, jokes, more tears & revelations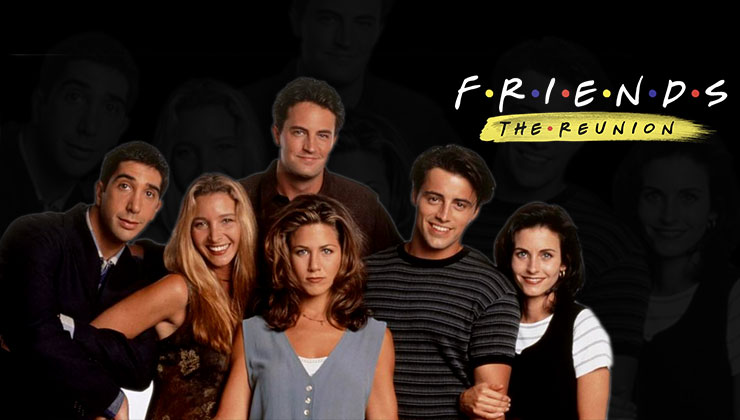 Image Source - Instagram
Friends: The Reunion' Cast: Jennifer Aniston, Courteney Cox, Lisa Kudrow, Matt LeBlanc, Matthew Perry, David Schwimmer and others
Director: Ben Winston
Duration: One hour 44 minutes
Premiering On:  Zee5 (India)
Oh, what memories Kick in as the theme song plays, taking us on a nostalgic ride. As the song fades, the camera focuses on the purple door preparing you to unravel Friends '17 years later.' Sigh. I think I can collectively exclaim on behalf of everyone that those 1: 44 hours of the reunion were a sheer moment of joy. To tell you a fact with my jaws hurting and my eyes moist, I laughed when they did, cried more often than not, and just was in awe as I watched my favourite characters come together for the first time in 17 years to gift us what we asked for the most. Thank You, Monica, Chandler, Ross, Rachel, Joey, and Pheobe.
Directed by Ben Winston, Friends: The Reunion brought together the amazing cast of Jennifer Aniston, Courteney Cox, Lisa Kudrow, Matt LeBlanc, Matthew Perry, David Schwimmer for what can be called the most 'iconic' episode ever. The episode answers all the questions you perhaps wanted answers to. For example, were Ross and Rachel really on a break? (Guys, you get the closure you wanted, trust me!) Ooo and where would the characters be 17 years down the line? And of course, host James Corden also cheekily asked the cast if there were any off-screen romances between them.
The cast finds themselves on the original soundstage as they walk in soaking in and reliving the moments they shared as a unit. While Courtney surely teared up (I KNOW) as she entered, Matt says 'I got the chills' (we feel you, Matt), the cast met and hugged each other as they huddled up to take the couch to answer a few questions. While going back and forth between the cast watching themselves act, or their blooper videos, the production ensures to make you feel like you are a part of that family. It is surreal how unsurprisingly comforting it is to watch these bunch of friends reunite.
View this post on Instagram
Between jokes and the cast revisiting a few of their favourites scenes or performing off-script, Friends: The Reunion episode was also flooded with tons of celebrities. From Justin Beiber doing the ramp walk as Sputnik (My eyes, my eyes) to BTS, Malala Yousafzai, David Beckham, and Kit Harrington made appearances. One of the highlights is when Lady Gaga makes an appearance joining Pheobe (I am sorry, for me, Lisa sitting on that couch singing Smelly Cat will also be Pheobe) as they sing Smelly Cat. But what really takes away the cake for me is her PS comment of finding it better when she sings Alone. Oh, classic, Pheobe.
Later, in a video montage, the makers also showed a pre-recorded message of fans who loved the show from across the world, be it Japan, Ghana, India, and more. There are heartwarming stories of people finding comfort and belongingness after watching Friends in different phases of their life. Well, that is the beauty of this iconic show, isn't it?
Friends: The Reunion saw the makers of the show David Crane, Marta Kauffman, and Kevin Bright reveal the process behind casting each member. Makers even revealed that Monica and Chandler actually was never something they envisioned to become a thing and that they were divided on whether or not to give Ross and Rachel a happy ending.
Matthew Perry even confessed that he would have 'convulsions' if the live audience wouldn't react to the scenes back then. The members also discussed how many times have they watched the show themselves and their opinion of what it felt like. In the table-read session, they did script reading of several episodes including "The One Where Ross Finds Out."
View this post on Instagram
The friends even pulled each other's legs. While Lisa was cheered on to have the most 'infectious laughter, the gang teased Matthew for his scenes with Julia Roberts. There is also a part where the cast asks Jennifer about Brad Pitt's cameo.
Towards the end, Lisa took the charge to reveal if they would like another season or a movie on Friends. A question we all asked and hoped would get an answer to. Well, this time we do. Lisa, on behalf of the cast, emphasized that the makers left the show on a good note and she did not want to unravel those happy endings. "I don't want anybody's happy ending unravelled," Lisa said.
Well, she said it.
As I watched the episode, the emotions only rode higher. First in awe, then shrieking, mouthing dialogues, laughing maniacally, getting teary-eyed, and ending it with a smile and tear-stricken face. That's what FRIENDS is about. Comforting you and making you your own. And for those who don't like it, well, here's us doing Ross' Friendly Finger!
ALSO READ: Friends Reunion: Find out the reason behind Matthew Perry's slurred speech in the promo