'Natkhat' Movie Review: Vidya Balan's unique re-telling of a bedtime story with the twist of domestic violence and the spice of patriarchy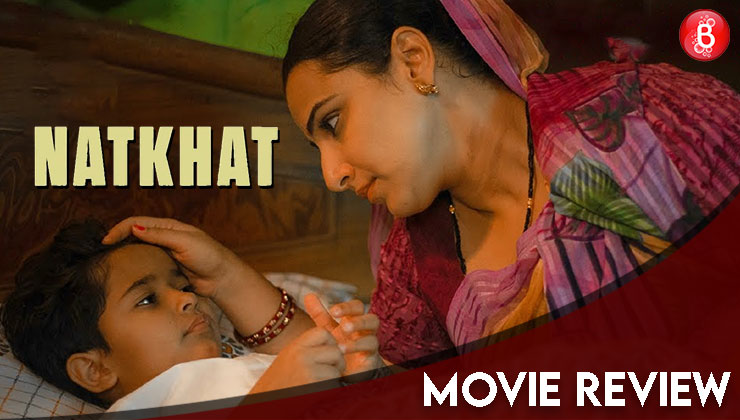 Image Source - Instagram
Directed By
Shaan Vyas
Produced By
Ronnie Screwvala, Vidya Balan
Cast
Vidya Balan, Sanika Patel, Raj Arjun, Atul Tiwari, Nivedita Baunthiyal, Sparsh Shrivastava
Bubble Rating


What's It About
A little boy picks up patriarchal traits from the men of his family and helps friends at school to kidnap a little girl just to threaten her to stay within her limits. When the mom (Vidya Balan) finds out, she tries to explain her little boy about his wrongdoings by re-telling a bedtime childhood story. The little boy, who sees his mother facing domestic violence at home, slowly and steadily realises that the story his mom has been telling him, is about his life only. Will he be able to mend his ways and turn out to be a better human than the rest of the men in his family? Well, that's what the short film is all about.
What's Hot
The storytelling by Shaan Vyas is fantastic. The germ behind the idea of re-telling a bedtime story by showing how patriarchy and domestic violence is inbred in all the men of our society right from their infancy is remarkable. Hats off to the writers and the director (Shaan Vyas) for the superb direction in which they took the story.
Vidya Balan for her subtle yet so powerful portrayal of a mother in today's milieu. She didn't have the vanity which you would associate with any actress of today's times, and that's what helps us to look at her character like just about any other regular Indian mom. The way she starts telling the bedtime story to her son with total enthusiasm, and with every passing day how her enthusiasm reduces day by day has been nuanced aptly in her performance. She proves once again why she is the best actress we have in this generation.
Also, Vidya and Ronnie Screwvala, as producers, need to be lauded for being brave enough to back such a great story and make sure we, as the audience, get to sprinkle some better cinema into the world.
The little boy, Sanika Patel, is really good. Even though the story is being told by Vidya Balan, it's actually Sanika's reactions to the story being told which makes it a perfect watch. He is a stellar find, and if he continues to pursue acting, he should turn out to be the finest find of this year.
The editing by Shweta Venkat Mathew is crisp and keeps the story to the point, which helps you to remain entertained throughout.
The cinematography by Sachin S Pillai is simple and has kept the things to the proper limit. He manages to make the surroundings play in a short film like this. Also, he is the one because of whom you are able to make sure that all the characters are equally given importance to and not just the star Vidya Balan.
What's Not
While I would say that there is nothing wrong in this film, I would still say that this story has the potential to be woven into a full-fledged film. I would love to see where the little boy's character Sonu ends up in 10 years. Does his self-realisation make him become a better human? Or does the societal pressures during growing up crawl up to him? Well, Shaan Vyas, you leave a lot untold and a connoisseur of good cinema, I would have wanted to see this as a bigger feature.
Rest, this was impeccable and on point.
Verdict
Not film is not just Vidya Balan. It's the story and the way Shaan Vyas has told it, which makes this a MUST WATCH. This film is practically something that I would love to show to others and flaunt saying that this was made in Bollywood. Going by the numerous sequels we see these days, I would want to see a sequel to this and get to know what happens to Sonu (the little boy) in his life journey. I am going with 4.5 stars for this short film.
Also Read: 'Ghoomketu' Movie Review: Nawazuddin Siddiqui's brilliant real-life inspired act squandered by some whimsical storytelling