'Khatron Ke Khiladi 10' contestant Rani Chatterjee opens up about depression and suicidal thoughts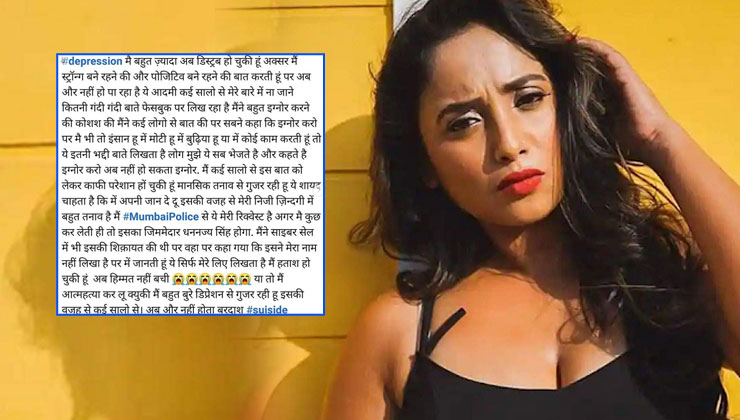 Image Source - Instagram
After Sushant Singh Rajput's death, many actors and other celebrities have come ahead and opened up about their struggle in the industry and how much it has to lead them to depression. Some even said to have suicidal thoughts. Recently, 'Khatron Ke Khiladi 10' contestant and Bhojpuri actress Rani Chatterjee opened up about her struggle with depression and who caused it.
Rani Chatterjee spoke to Bollywood Bubble recently about her journey in 'Khatron Ke Khiladi 10'. Check out the conversation right here:
Rani took to her Instagram handle and poured out her heart in a sad post where she opened up about depression, she wrote that she has been very depressed and disturbed with depression for a long time and though she tries to stay positive and strong, it is getting difficult for her.
Rani wrote that a social media user Dhananjay Singh has been mentally harassing her for a long time now and she even tagged the Mumbai police saying that if she ever commits suicide so he is to be held responsible for that. She also shared that he fat-shames her and even called her Budhiya (old woman). She wrote that while she is trying to ignore him for a long time, but it is getting difficult now. The actress shared that because of all this her personal life is getting affected and she is going through mental trauma. The caption of the post read, "@mumbaipolice 🙏🙏🙏😭😭😭😭😭 give up (sic)."
We hope some swift action is taken against the person responsible. Stay hooked onto Bollywood Bubble for more such interesting stories right here.
Also Read: Sushant Singh Rajput suicide: Shekhar Suman demands CBI pobe; says the late actor changed 50 sim cards as he was threatened