Aamir Khan shares a lovely birthday post for Sunny Leone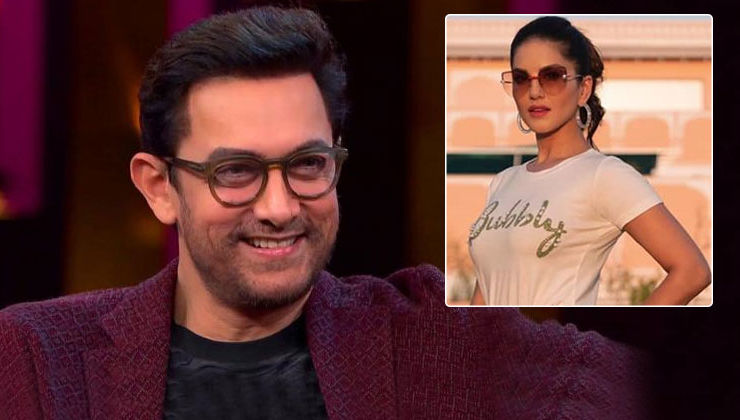 Image Source - Instagram
Actress-model Sunny Leone celebrated her 38th birthday yesterday (May 13). Naturally, wishes poured in for birthday girl Sunny from her fans and followers on social media but it was a special message from Mr Perfectionist Aamir Khan that must have made her day. Yes, Aamir shared a lovely birthday wish for the 'Jism 2' actress.
The 'Thugs of Hindostan' actor took to the micro-blogging site Twitter and wrote, "Dear Sunny wishing you a very happy birthday. Hope you had a great day."
You can read his entire post below:
Dear @SunnyLeone, wishing you a very happy birthday. Hope you had a great day. Wishing you a great year ahead, and many happy returns of this very special day.
Love.
a.

— Aamir Khan (@aamir_khan) May 13, 2019
Aamir even shared the same post on his Insta stories.
Image Source - Instagram
Sunny must really be very happy after reading Aamir's post. However, she is yet to respond to his message on social media.
Now, for some of you, Mr. Perfectionist wishing Sunny must have come as a surprise. Well then, let us inform you that this is not the first time when the actor has showcased his support and admiration for the actress. Way back in 2016, in one of her interviews, Sunny had to face sexist and demeaning questions when the interviewer asked her about her career hinting at her past of being an adult film star.
Even then, Aamir had said that he would love to work with Sunny as he has absolutely no problem with her "past". Sunny simply couldn't contain her happiness after receiving support from the superstar.
You can check their earlier posts below:
I think my heart just dropped seeing this!! Thank you so much for the support. It means the world and beyond to me! https://t.co/ayZmahPcIr

— Sunny Leone (@SunnyLeone) January 20, 2016
Wow you just made my whole year saying that! I was just happy you wrote me back 🙂 respect you dearly! 🙂 🙂 🙂 https://t.co/j4lxuVuar8

— Sunny Leone (@SunnyLeone) January 20, 2016
Aamir truly is a superstar in every sense. The sensitive and socially conscious actor never ceases to inspire and amaze us. Soon after he wished Sunny (something which none of his contemporaries have done), netizens praised the actor and expressed their respect for him.
You can check some of their tweets below:
Wow! This is unexpected from a superstar. No other star took bother to wish her. You are a true human being sir.. respect…👌❤

— ❤ Purushottam 💚 (@Uttam_puruah) May 13, 2019
This not expect any bollywood stars
Amir is different and great

— #P4Life⚡Thalapathy⚡ (@HariMarvel) May 13, 2019
Love you Aamir sir

— Sajan Randhawa (@SAJAN_Aamirian) May 13, 2019
In reality, Sunny is a very sweet person. Don't judge a book by its cover.

— Rohitvarma (@AAMIRCRAZE) May 13, 2019
Our film industry needs more sensitive stars like Aamir who never refrains from taking a stand when needed and supporting relevant things.
Also Read: Sunny Leone Birthday Special: 5 sensual dance numbers of the diva that will rock your world