Anil Kapoor grooving to BTS' tunes is breaking the internet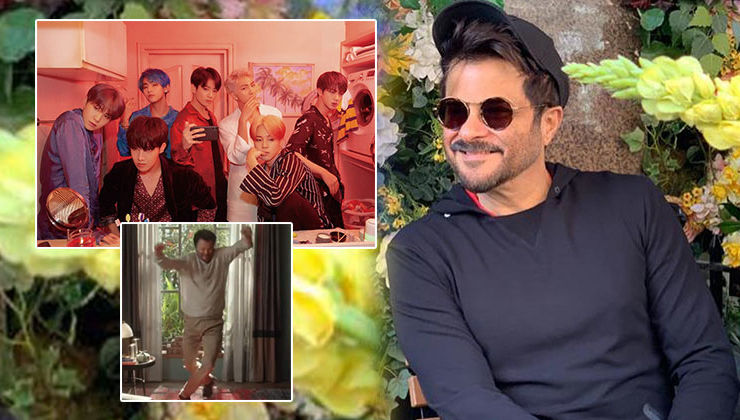 Image Source - Instagram
Anil Kapoor is known for his signature dance moves that has his fans going gaga over it. But when you combine these stellar moves with the hit tunes of the biggest band on the planet right now BTS (Bangtan Boys) it is bound to break the internet.
Anil Kapoor recently shared a video on his Instagram, in which he is seen dancing to BTS' hit song 'Boy With Luv'. The video also features 'Dhadak' star Ishaan Khatter who plays the role of his son, and he is shell shocked with Anil's moves only to join him later in the dance party. Anil wrote, "Kids these days can't keep up with me 😏 (sic)."
BTS is one of the biggest South Korean boy group and they have been breaking and making records since their debut. It comprises of 7 members Jin, Suga, Jungkook, V, RM, J-hope, and Jimin.
View this post on Instagram
BTS' fans are known as ARMY. The ARMY has gone crazy over Anil Kapoor's video and their reactions have blown up twitter.
now i know why you never age, that's because you got taste

— ruru (@listenbts) August 8, 2019
Am gonna scream out loud!!!!! We Purple you Sir💜!! You are daebak!!😆 I'm gonna blow all my social media account today ~

Today 8th Aug 2019 is a memorable day for all Indian ARMYs!! pic.twitter.com/qHpNAgJbfg

— 2! 3! (@AnimefanAnkita) August 8, 2019
Hahaha, love your MY NAME IS LAKHAN dance to Boy With Luv! You are indeed timeless. #MPN #BTS @BTS_twt 🦋

— ☕ (@webrokethewall) August 8, 2019
Mr India is an Army I'm SCREAMING

— h. (@kthmixtaepe) August 8, 2019
We want mr India and mr worldwide handsome interaction

— 🦋۷ıʂɧų🦋 (@BTSarmyMiracle) August 8, 2019
ANIL SIIIRRRRRR hdhssjjss
We love Legends supporting Legends :')
Imagine Joon dancing on my name ij lakhan 🤤🤤

— मुस्कान || Muskan || sinehera kookue || (@MrsNJKim) August 8, 2019
Omgghgh whattttttt 😱😱😱💜💜💜💜😱😱💜💜💜💜 pic.twitter.com/pc6hvJH0Vq

— Bhavs🌻 (@taeconomix) August 8, 2019
Wow my favorite hero Ram Lakhan & Mr India listening to Bts.

Have a lovely day today pic.twitter.com/cpxzPCJUw9

— Rekha Dhimmar (@R789Dhimmar) August 8, 2019
On the work front, Anil Kapoor will be seen next in Mohit Suri's directorial 'Malang'. Then he has 'Pagalpanti', to be directed by Anees Bazmee and then Karan Johar's 'Takht'.
BTS is all set to take over the Indian theatres with their feature movie, 'Bring The Soul: The Movie' that will release on August 7. 'Bring The Soul' is BTS' second film that shares an insight into their tours. Earlier this year, BTS released their one-night-only concert film, BTS World Tour 'Love Yourself' in January.
Also Read: Anil Kapoor on his viral FaceApp memes: I'm so amused and entertained by people's creativity