Deepika gets slut-shamed for wearing a sexy saree at GQ fashion nights!
While social media is booming day by day, let's also face the fact that it's turning into a platform where opinions are just anytime and anywhere poured in. From men being bullied on their sexual orientation to women getting trolled and slut-shamed, sometimes we think why the hell did social media actually come into existence. (Also Read:Fanney Khan: Contrary to rumours, Aishwarya-starrer still clashing with Salman's 'Race 3')
It so happened that the 'Padmavati' star Deepika Padukone recently wore the sexiest saree ever at a recently held GQ nights, and not to our surprise the leggy lass was slut-shamed for donning something that hot. Basically Deepika's saree had a modern twist, which featured a golden embellished high waist mermaid skirt, a deep plunging neckline themed blouse and a plain black cloth draped across her body to create that pallu effect. But as usual many people on social media stooped low and starting commenting nasty stuff on what Deepika was wearing. Check out some of the ridiculous comments below:
This first picture explains why such ill-opinionated people should be blocked!
Source: Instagram
Deepika Padukone's go-to stylist shared the below picture of the actress on her Instagram account and some comments were downright cheap, see below.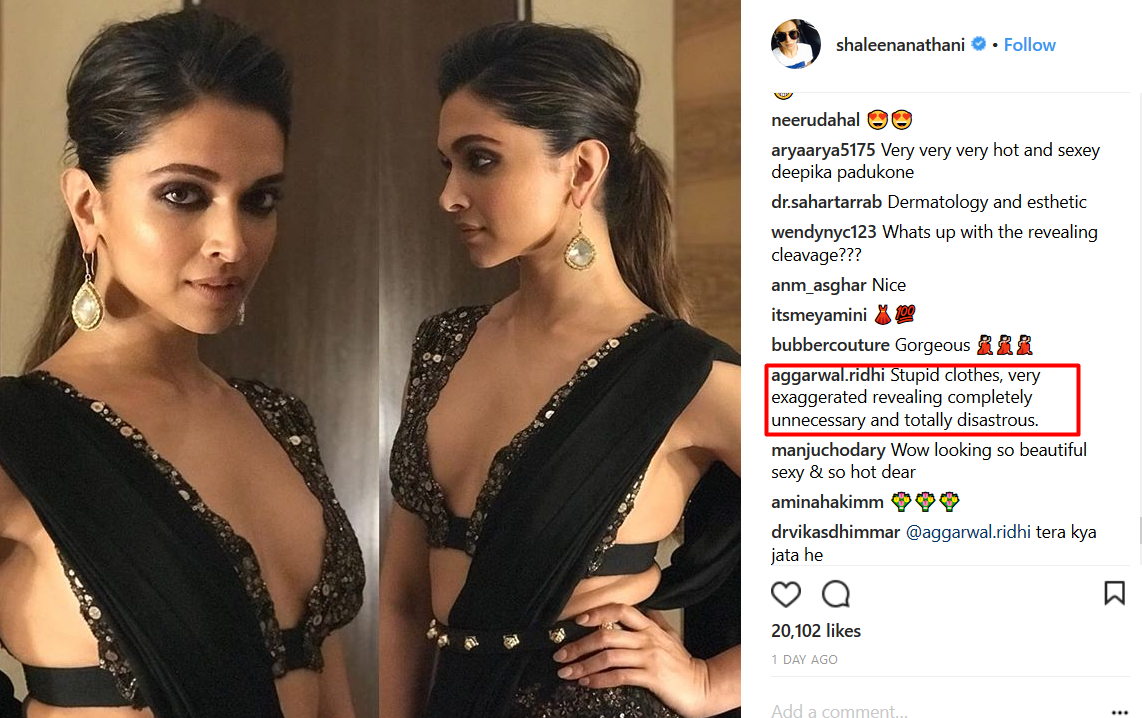 Source: Instagram
Some more disguising reality of social media. Like we don't get it, why cannot celebrities have the freaking right to wear what they want?
Source: Instagram
Source: Instagram
Lastly we hope that Deepika posts a much sexier picture than this as an apt answer to some losers who choose to hide behind their screens and shame women for their choice of clothes.
For trending stories, stay glued to Bollywood Bubble!
Sunny Leone has been hospitalised for this reason- details inside
Bollywood actress Sunny Leone who is gearing up for the launch of her biopic web series has been hospitalised. The actress was shooting for MTV's popular reality show 'Splitsvilla' when she complained of severe stomach pain and mild fever. Soon after, the actress was hospitalised at Brijesh Hospital Kashipur in the Udham Singh Nagar district of Uttarakhand, for gastroenteritis.
According to a report in Hindustan Times, the doctors examined Sunny for the ailment and revealed that her health is satisfactory. Sunny Leone who is under the supervision of Dr Mayank Aggarwal said, "We are giving her the best care possible and she is under medication and treatment." (Also Read:Sunny Leone's husband brutally trolled for his Father's Day post)
The doctor added, "Sunny had come to the hospital with intense pain in the stomach and mild fever and she is now fine and the pain has subsided after medication". Dr. Aggarwal also pointed out that the actress suffered stomach infection due to travelling in the hot weather. He even mentioned that the actress may be discharged today afternoon or Saturday Morning.
Phew! We are glad that the lady is safe and sound. Talking about her professional front, Sunny Leone will be seen in her own biopic web series titled 'KarenjitKaur'. The actress has also been roped in for 'Arjun Patiala' starring Diljit Dosanjh and Kriti Sanon .
We bet you will view this picture of Shahid Kapoor and Mira Rajput twice!
There are some pictures which demand your attention for a longer time. Sometimes, just one look is not enough and you have to view it twice. This is the case with photos which appear to have an optical illusion.
Recently, Shahid Kapoor shared an adorable picture with his wife Mira. When you look at it once, it will appear as a normal, cute picture of the couple, but when you look at it closely for the second time, you realise that the angle in which the picture is clicked, creates an illusion leaving people puzzled.
This photo of Shahid and Mira has left the fans confused. You can check it out below:
Fans couldn't figure out who was actually standing and who was sitting. Some had to look at the picture twice to understand the picture properly. Here is what some of the fans have commented on the picture:
Another user wrote:
Aree you confused too? We will help you. If you look at it carefully, it is Shahid Kapoor who is sitting on the sofa and his wife Mira is hugging him from behind. There are more pictures of couples hugging each other in a similar manner and those pictures have gone viral on the internet!
Shahid and Mira are parents to Misha Kapoor, who will turn 2 years old in August this year. The couple is now expecting their second child. (Also Read: Mira Rajput and Shahid Kapoor's romantic selfie shows a different side of the couple)
Moving on to Shahid's professional life, he was supposed to perform at the IIFA Awards ceremony this year but unfortunately, had to opt out of it. Shahid had also started rehearsing for the award show but suffered a back spasm. According to a source, "It was while attempting a tricky step that he suffered a back spasm and was advised against any strenuous activity by the doctor. Although Shahid was scheduled to fly out to Thailand, he called off the plan. The IIFA organizers were fairly understanding about it." Well, we hope that hug from Mira was comforting enough for Shahid!
On the work front, Shahid Kapoor will next be seen in 'Batti Gul Meter Chalu' which will be directed byShree Narayan Singh. The film also stars Shraddha Kapoor,Yami Gautam and others. The film was supposed to release on August 31 this year but it may get postponed as 'Stree', another Shraddha Kapoor film is releasing on the same date. Shahid also has the Hindi remake of the Telugu hit film, 'Arjun Reddy'.