Deepika gets slut-shamed for wearing a sexy saree at GQ fashion nights!
While social media is booming day by day, let's also face the fact that it's turning into a platform where opinions are just anytime and anywhere poured in. From men being bullied on their sexual orientation to women getting trolled and slut-shamed, sometimes we think why the hell did social media actually come into existence. (Also Read:Fanney Khan: Contrary to rumours, Aishwarya-starrer still clashing with Salman's 'Race 3')
It so happened that the 'Padmavati' star Deepika Padukone recently wore the sexiest saree ever at a recently held GQ nights, and not to our surprise the leggy lass was slut-shamed for donning something that hot. Basically Deepika's saree had a modern twist, which featured a golden embellished high waist mermaid skirt, a deep plunging neckline themed blouse and a plain black cloth draped across her body to create that pallu effect. But as usual many people on social media stooped low and starting commenting nasty stuff on what Deepika was wearing. Check out some of the ridiculous comments below:
This first picture explains why such ill-opinionated people should be blocked!
Source: Instagram
Deepika Padukone's go-to stylist shared the below picture of the actress on her Instagram account and some comments were downright cheap, see below.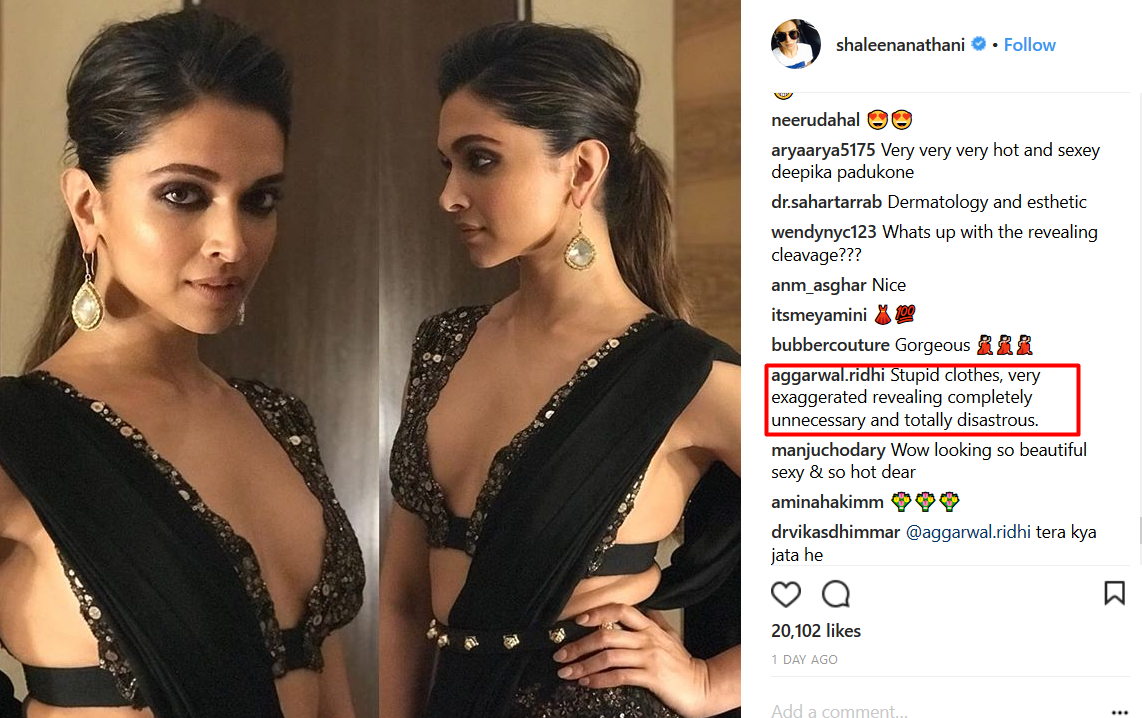 Source: Instagram
Some more disguising reality of social media. Like we don't get it, why cannot celebrities have the freaking right to wear what they want?
Source: Instagram
Source: Instagram
Lastly we hope that Deepika posts a much sexier picture than this as an apt answer to some losers who choose to hide behind their screens and shame women for their choice of clothes.
For trending stories, stay glued to Bollywood Bubble!