Bollywood director Kunal Kohli is all set to make his debut in upcoming romance drama 'Phir Se'. He will be romancing the queen of television the gorgeous actress Jennifer Winget. Recently the makers of the film hav elaunched the trailer of the film.
'Phir Se' is the story of an unusual attraction between two heartbroken persons. Kunal Kohli plays Jai Khanna, a forty-year-old divorced man. Jennifer Winget plays Kajal Kapoor, an Indian girl who moves to London after her divorce. The two find solace in each other's company. Before Jai and Kajal know, they are in love. But the question is: Are they ready to put everything on the line for love?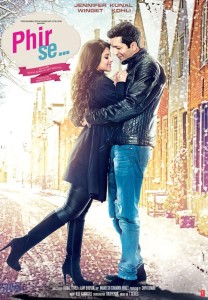 Produced by Shiv Kumar, M.Doshi & R.G 'Phir Se' is directed by Ajay Bhuyan and Kunal Kohli. The film also stars Rajit Kapoor, Dalip Tahil, Kanwaljeet Singh and Sushmita Mukherjee Bundela.
Watch the trailer of 'Phir Se' below