Coronavirus Lockdown: Here's what our Bollywood celebs are eating to cope with the quarantine blues
Coronavirus has been spreading rapidly all over the world. Everyone has been completely caught off guard and are left with no choice but to stay in self-isolation. People across the world have been advised to stay indoors in what we call quarantine as it is the only precautionary measure that will keep us from contacting the virus.
Now, while you are locked down in your house, you are bound to get bored and if you are a foodie you know that food can make everything better especially these quarantine blues that have been in full Force lately. Bollywood celebrities too are stuck at home due to COVID-19 and here's what they are munching on to keep those quarantine blues at bay.
Here's what our Bollywood celebs are eating to cope with the quarantine blues
Deepika has gone down the good old dessert way during her quarantine as she took to her Instagram to share a picture of her dessert that looked like heaven with gooey chocolatey goodness. The caption read, "Season 1:Episode 4 Three Two…ChaChaCha!!!🙈 (Un)Productivity in the time of COVID-19!😷 #dessert #dessertporn(sic)"
Saiee Manjrekar
Saiee too has been cooking in the kitchen with her father Mahesh Manjrekar. Saiee took to her Instagram to share videos from the cooking session and can we say that it looked absolutely appetizing. It was good old Indian healthy hearty meal that included eggs and rice. The caption read, "sab haath bataao! swipe to see the final outcome🥳(sic)"
Malaika has gone down the healthy Road with healthy yet delicious meals, that included vegetable curry and gluten-free vegan bread. Malaika took to her Instagram to post a video of herself cooking the delicacies and encouraged people to stay safe.
Shilpa Shetty, being the big fitness influencer that she is, has taken to her social media profile to encourage her fans to eat healthy as she shared a recipe of granola bars. So you can be rest assured that you won't be gaining any extra kilos during this quarantine.
Sidharth had taken up a new task this quarantine and that is of cooking. The actor is trying his hand in the kitchen as he attempts to cook some 'Butter Garlic Prawns'. It looks good though so he must have done it right. The caption read, "Well, it's never too late to try something new! Here's #MyAttemptAt cooking Butter Garlic Prawns for the first time which surprisingly turned out pretty well 😜 Make the most of this time guys and keep trying new things 👨‍🍳"
Karisma is making her family and staff happy as she treated them to a luscious chocolate cake. Posting the pictures she wrote, "Simple pleasures of #socialdistancing Bake a cake for the family and staff at home 🎂💕
#stayhome #staysafe #familytime #nofilter"
Diljit Dosanjh
Diljit has been keeping his fans updated with what he is cooking during his self-quarantine. The actor has been posting pictures on his Instagram story as to what he is mixing up in the kitchen.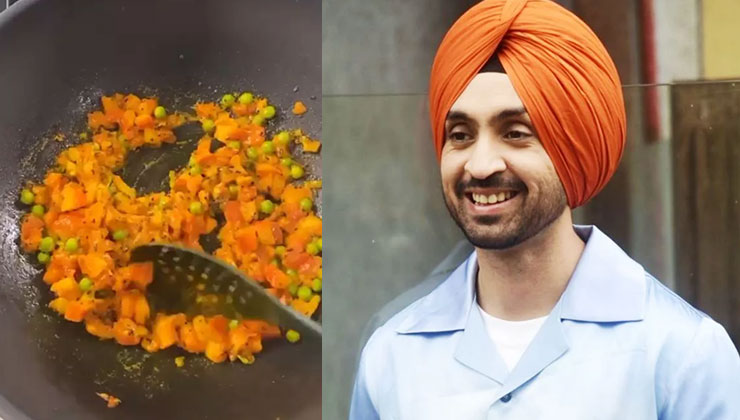 Image Source - Instagram
Actor Rajkummar Rao and his girlfriend, actor Patralekhaa are staying at home and self-quarantining. He posted some pictures on his social media stories showcasing their cooking skills. The caption written in Hindi said, "The first step of cooking. Chopping vegetables. And if it is onions, you can wear glasses too." The second picture displays the final result, "The food is ready! Chana masala, moong ki dal and quinoa. Co-chef: Patralekhaa,."
Image Source - Instagram
Well, we hope that gave you some really creative ideas to spend time while you guys are indoors. Till then you guys stay safe and be hooked to this space for more interesting updates.
Also Read: Coronavirus Lockdown: Malaika Arora, Salman Khan, Kareena Kapoor – here's what B-Town celebs are doing during self-quarantine