'Thackeray' Movie Review: A brilliant tiger's eye view at the life and times of Bal Thackeray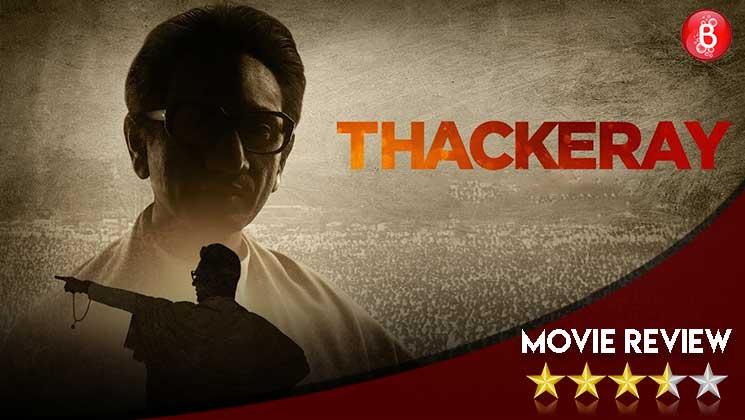 Directed By: Abhijit Panse
Produced By: Viacom 18 Motion Pictures, Carnival Pictures, Raut'ers Entertainment
Cast: Nawazuddin Siddiqui, amrita rao
Bollywood Bubble Rating: 3.5/5
One of the biggest challenges of making a biopic is that the film's tone should match the personality of its subject. Many biopics like 'Mary Kom' and 'Soorma' fell short of being great because they were not able to capture the aura of MC Mary Kom and Sandeep Singh that well. Some like 'The Accidental Prime Minister' were just atrociously bad. 'Thackeray' is an example for young filmmakers to understand how exactly does one get the tone right. Despite Nawazuddin not mimicking Balasaheb, he manages to exude an intimidating presence that cuts right through the screen. Other than Nawaz's body language and his exquisite dialogue delivery skills, we must also applaud the film's background score and its cinematography. Even if you take the story out of the equation, these four attributes ensures that you never get bored.
To begin with, Nawazuddin starts as a cartoonist at Free Press Journal. He quits because the journal doesn't want to take any risks by publishing his sharp cartoons. He is angered by how the Maharashtrians are treated in their own territory, and as a response, he starts Shiv Sena. After that, several events unfold like Indira Gandhi's emergency, and the 1993 bomb blasts, and we get to see Thackeray's reaction to such events in the movie. Considering it's a biopic, the movie does not have a linear (point A to point B) plot and that does slow down the pace (make you feel sleepy) sometimes. However, there's always a loaded dialogue around the corner to wake you up from your slumber.
As far as performances are concerned, Nawaz brings his A-Game but his make-up artist doesn't. His face looks clearly manufactured and very unrealistic. Amrita Rao shines in her small role as Thackeray's wife. Why does she not appear in more movies?
Also, as we find out at the end, this does not tell the entire story of Bal Thackeray. There's a second part in store.
Final verdict: 
If you had any liking for the firebrand politician, you'll love this movie.
Watch trailer: