Bigg Boss 14 Finale: Rubina Dilaik, Rahul Vaidya to Rakhi Sawant; Times Salman Khan got ANGRY on contestants
Host Salman Khan and the Bigg Boss show are inseparable. No one can match the way he conducts the Weekend Ka Vaar. Weekend Ka Vaar is like a classroom where the principal comes and teaches some lessons. The students' progress from Monday to Friday has been monitored, discussed, and also reported to the superstar actor. Normally, he conducts these episodes very calmly. He'll point out some highlights and mistakes the contestants made throughout the week. However, every once in a while when a contestant does something absolutely unacceptable, he gets furious. Let's take a look at how many times Salman lost his cool this year. This is Salman Khan's 11th endeavor with Bigg Boss 14. 
Here are all the times Salman Khan got angry on Bigg Boss 14: 
1. Scolded Rahul Vaidya on Nepotism: 
Salman scolded contestant Rahul Vaidya after the singer had addressed Jaan Kumar Sanu (son of veteran singer Kumar Sanu) as a product of "nepotism" during an episode. Salman Khan began the discussion by asking Rahul Vaidya that if someone's parents have done something for the child, would that be called "nepotism"? Salman Khan gave several examples to prove his point. The actor asked Rahul Vaidya if he likes actor Sanjay Dutt (son of late actors Sunil Dutt and Nargis) and added, "Tell me, Rahul, do you like Sanjay Dutt? His father Dutt Sahab launched him but that film did not work as much as Love Story did. But Sanju Baba continues to rule." He then asked Rahul Vaidya, "Did Raj Kapoor do wrong by launching Rishi Kapoor? Was Dharmendra wrong in launching Sunny Deol? They launched their own kid and also launched so many other kids."
2. Salman was upset with Rubina: 
This happened in the initial days of BB – when Rubina refused to do a task. The task required Nikki and Rubina to stand at the podium with dustbins by their sides and all of the other contestants were supposed to dump dry leaves in the bin of that person who they think has more "kachra" in their brain. Rubina refused to do this task since she didn't like the idea of someone claiming she has "kachra" in her brain. He rejects her point and says it is unacceptable. He also asks her if she had watched the show before. Rubina denies. Salman says it is her fault that she did not follow it before agreeing to be on it.
3. Salman Khan warned Jasmin Bhasin for her tantrum against Rahul Vaidya: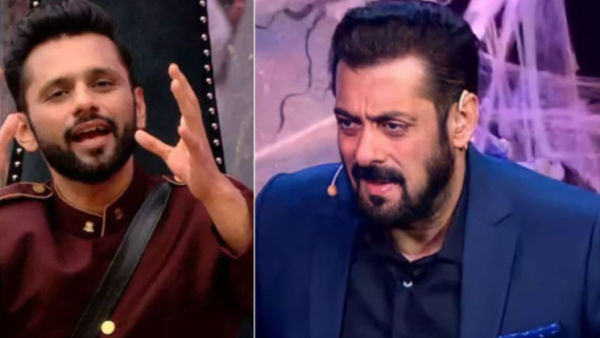 In one of the tasks which involved a bit more physical play, Rahul had warned Jasmin to leave it since she might get hurt. Jasmin took this as a threat thus she was very upset and started crying uncontrollably. Eventually, she lost the task. After that tantrum, Jasmin threw water on Rahul. Jasmin was also hitting and crying continuously- on that Salman said "you have started going on the wrong track."He made her understand that Rahul was simply telling her that she might get injured. 
4. When Salman slammed Ronnit Biswas: 
Salman Khan and the channel allowed Kavita and Ronnie to clear the matter with Abhinav and Rubina. While they were ready to take the matter to court, Salman Khan came in between and asked them to end their personal differences and move on in life. Salman scolded Ronnit as he asked, "Why do you put out your wife's past on social media? Dosti this, Dosti see Jada, why are you doing it?" He termed Ronnie immature. 
5. When Salman Khan entered the house and cleaned Rakhi Sawant's bed: 
This was not the first time when Salman has entered the house. He also entered the house in BB13 when the contestants had left the house filthy by not cleaning it. This season, Nikki Tamboli refused to clean up Rakhi's bed. Upset, Salman entered the house and did the needful on Nikki's behalf. 
6. Salman warned Nikki multiple times for her rude behaviour inside the house: 
Salman has warned Nikki several times during the Weekend Ka Vaar that her rude behaviour is portraying a wrong image of her in the outside world. He also mentioned the audience is only getting to see Nikki as a rude and tactless person. He called her badtameez. 
7. Salman called Aly Goni rude:
When Jasmin entered the show in the family week to support Aly Goni, she pointed out mistakes several times to Aly. But Aly doesn't listen to her and also behaved rudely. To that Salman reacted and said Jasmin is not worrying about her image and is trying to guide him. 
8. Salman asked Rakhi Sawant to leave:
Most of the time, we see Salman having a soft spot for Rakhi. But this time, he told her," You accuse people and question their character. I have always supported you but if this is Entertainment, we don't want this kind of entertainment. If you can't stop yourself from crossing the line then you can leave the show right now. Please open the door."
ALSO READ: Bigg Boss 14: Jasmin Bhasin, Rahul Vaidya to Rubina Dilaik, Rakhi Sawant; Here are the UGLIEST fights of BB 14