Sona Mohapatra slams 'Indian Idol 11' for having #MeToo accused Anu Malik back; gets support from Neha Bhasin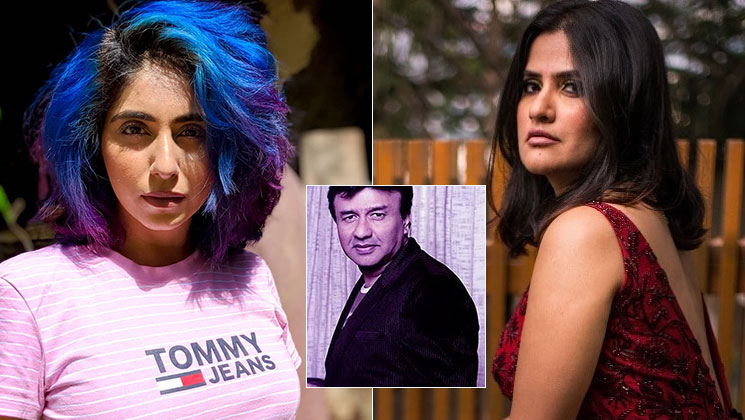 Image Source - Instagram
Anu Malik has been in the headlines for a while now after being called out in the Me Too movement. The singer has gotten many personalities in the industry furious over his return to 'Indian Idol's latest season. Recently, singer Sona Mohapatra criticized the composer and Sony TV for having him back on 'Indian Idol 11' in one of her posts to which singer Neha Bhasin replied revealing a horrific incident involving Anu.
Sona Mohapatra took to her Twitter handle to express her disdain over Anu Malik being back on 'Indian Idol 11'. In her post, she wrote, "It takes only a Nirbhaya level tragedy for #India to wake up? Few days after these,I was asked to leave my judge seat. My co-judge told me,the publicity I provided to Anu Malik took up the TRPS of our 'rival' show. (?!) A year later,a sexual predator is back on the same seat."
To Sona's post singer Neha Bhasin replied revealing an incident with Anu Malik. She called Anu a predator and said she was 21 when she met him and he was lying on a sofa talking about her eyes. Neha fled away from the scene cooking up a lie.
I agee with you. We do live in a very sexist world. Anu Malik is a predetor, i too have run away from his strange moves when i was 21. I didn't let myself get into a sticky situation beyond him lying on a sofa in front of me talking about my eyes in a studio. I fleed lying https://t.co/tQgStLrYyT

— Neha Bhasin (@nehabhasin4u) October 30, 2019
Later Sona wrote to Sony Pictures narrating Neha's situation and many other incidents she knew of about Malik. She wrote, "Dear India,media @SonyPictures , @nehabhasin4u was all of 21, @ShwetaPandit7 was 15 when he tried kissing her,his family doctors daughter was 14 when he unzipped."
I have known the spunky,driven & talented @nehabhasin4u since her Viva days & know she would've dealt with the trauma bravely w/o succumbing.I also know 2 many who were victimised! Youngsters & parents on a reality show are desperate to win & Anu Malik has been judge for 11yrs?

— ShutUpSona (@sonamohapatra) October 31, 2019
Earlier today, Sona wrote an open letter to the entire country, media and Sony Pictures International. She opened up about being asked to quit her previous singing reality show as a judge. She again called Anu a sexual predator and also said that singer Sonu nigam called her husband Ram Sampath asking to keep her in check. She ended the letter saying 'I Won't Shut Up'.
You can read her entire post below:
This. pic.twitter.com/LoZKmiHzEC

— ShutUpSona (@sonamohapatra) October 31, 2019
A few days back Sona had hit back at Vishal Dadlani too for working with Anu Malik in 'Indian Idol'
For more updates on this story, stay tuned.
Also Read: Aditya Narayan opens up about #MeToo accused Anu Malik's return to television