Not to be missed! A picture of Shah Rukh Khan's marksheet from college goes viral on the internet
Now this is really interesting. Shah Rukh Khan has once again made it to the headlines but for a very interesting reason. His marksheet from his college days has gone viral on the internet and people simply can't stop gushing over the marks he scored in English. The picture is of his admission card to Hans Raj College that reveals that he only scored 51 marks in English.
Going by his recent speech at TED Talks, it's really hard to believe that SRK was so poor in English. Looks like, over the years, SRK has not only worked on his acting skills, but has worked on his English too.
Here's the picture of his marksheet.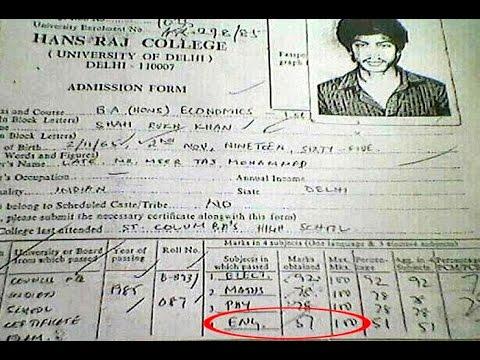 This picture has been put by a student run online portal called Delhi University Times. The admin of this portal, Milhaj Hussain, revealed why did they share this picture. He said, "We shared it online to showcase that marks don't matter if you are hardworking enough and know your aim in life. And, who can be a better person to set an example than Shah Rukh Khan? Through our portal we encourage students. Also, celebrity posts attract a lot of traffic and students tend to talk about them more. When it's the King of Bollywood, traffic is must."
Of course, it's the skill that matters the most and not the numbers on the report card! (Also Read: Shah Rukh Khan has encountered a stalker in Anushka Sharma)
Must Watch
Real 'Soorma' Sandeep Singh gets candid about his biopic
Things That Might Interest You:
Rohit Shetty shares a video to celebrate 7 years of 'Singham'
Image Source - Twitter
The Ajay Devgn starrer, Rohit Shetty directed, Reliance Entertainment produced, 'Singham' completes 7 years today!  The Ajay Devgn starrer offered the audience with one of the most loved cops' character, Singham with some of the most popular dialogues still being etched in the memories of the people. Not only the dialogues but also the action was loved by the audience.
As the film clocks 7 years, '7 Years of Singham' trending on social media. In order to mark the 7 years of the film, makers Reliance Entertainment have reincarnated all their social media handles with the logo of Singham, celebrating the memorable 7 years.
Sharing a short video capturing the best moments of the film, director Rohit Shetty took to social media and wrote,"Created in a Span of just Four and a Half months right from the 1st day of shoot to the day of Release, Singham was not only a Success at the Box Office But also Earned us tons of Love and Respect. Celebrating 7 years of Singham today, I want to Thank each and everyone from all walks of Life for making Singham an Iconic Character. This wouldn't have been possible without the Love and Support of my Audience. Thank You! @ajaydevgn @reliance.entertainment #7YearsOfSingham"
You can check his post below:
Starring Ajay Devgn, Prakash Raj and Kajal Aggarwal, 'Singham' released on July 22, 2011 and was then turning it into a franchise.
Besides 'Singham' Rohit Shetty and Reliance Entertainment have collaborated for 'Golmaal' too. Both the franchises were loved by the audience and also sets the box office on fire!
Also Read: Kajol talks about the media attention on daughter Nysa
Things That Might Interest You:
Bollywood celebrities rejoice as sanitary napkins are now exempt from GST
After almost a year long protest, the government has finally decided to exempt sanitary pads from the Goods and Services Tax. Finance Minister Piyush Goyal, following the GST council meeting on Saturday in New Delhi, said, "Sanitary napkins will be exempted from Goods and Services Tax."
Sanitary napkins are taxed under the GST regime's 12 percent slab and has now been cut to zero percent. Such happy news, right? Even Bollywood celebrities celebrated this decision and took to Twitter to share their thoughts on the same.
Here's what they tweeted:
One of those days when a news brings tears of joy as a cause close to ur heart gets fulfilled.Thank You, #GSTCouncil,for understanding the need for menstrual hygiene & exempting sanitary pads from tax. I'm sure crores of women in our country are silently sending gratitude ur way

— Akshay Kumar (@akshaykumar) July 21, 2018
When I raised questions about why there was GST on sanitary pads I had a large number of people barking at me-Glad to see positive results finally #PadManTalks https://t.co/zJqhxGhIx3

— Twinkle Khanna (@mrsfunnybones) July 21, 2018
Twinkle also quoted A Muruganantham's Tweet and wrote, "Every voice makes a difference-it all adds up eventually #PadManTalks". For those who don't know, the Akshay Kumar starrer, Twinkle Khanna produced film, 'PadMan' was based on Muruganantham.
Check out the tweet below:
Every voice makes a difference-it all adds up eventually #PadManTalks https://t.co/JwKZrsOoZw

— Twinkle Khanna (@mrsfunnybones) July 21, 2018
Himash Kohli:
#SanitaryNapkins are not a luxury, but a necessity. Really glad to know that they are exempted from taxation. 👏😊

— Himansh Kohli (@himanshkohli) July 21, 2018
Rahul Dev:
After years of indifference towards sanitary napkins, feminine hygiene is finally tax free! Landmark decision..
Congratulations to the likes of Faye Dsouza who have helped achieve this 👍#SanitaryNapkins #GoodandSimpleGST https://t.co/CtWK6Ts3aR

— Rahul Dev Official (@RahulDevRising) July 21, 2018
Also Read: Twinkle reveals why she doesn't support menstrual leaves
Things That Might Interest You: