Soha Ali Khan-Kunal Kemmu's daughter Inaaya chanting Gayatri Mantra is the cutest video you will see today
Image Source - Instagram
Soha Ali Khan and Kunal Kemmu's daughter Inaaya Naumi Kemmu is one of the cutest star kid in B-town. The toddler has melted our hearts with her endearing antics. The star kid was recently seen reciting the entire Gayatri Mantra without missing a word and was completely in tune. This left everyone amused and in awe of the cutie-pie.
In the video shared by Kunal Kemmu, he was celebrating Bhai Dooj with his sister and his adorable daughter Inaaya was lingering close. Kunal's sister was chanting the Gayatri Mantra while doing the Bhai Dooj rituals. Later, Inaaya too joined in. In her Baby voice, the munchkin sang the entire Gayatri Mantra, word-to-word without skipping anything and completely in tune.
Kunal took to his Instagram to share the adorable video. He captioned it as, "Here's to spreading light this Bhai Dooj #happybhaidooj"
The video garnered a lot of 'Awws' and hearts from Kunal's fans and friends. Along with the fans, B-Town celebs too were in awe of the toddler. Anand Tiwari wrote "Haye meri bachchi", Sandeepa Dhar wrote, "Soooooo cute," and Parineeti Chopra was 'DEAD!' over Inaaya's cuteness. Whereas actor Vicky Kaushal wrote, 'adorable yaar.' on Kunal's post.
Yuo can check oput their comments below: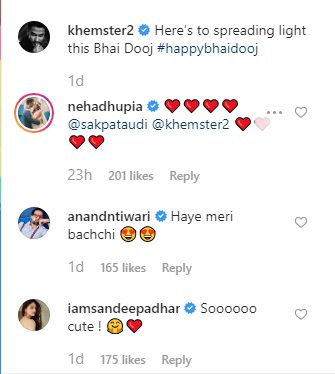 Image Source - Instagram
Image Source - Instagram
Inaaya also looked super cute in a pink suit that she wore for Diwali. Soha took to her Instagram handle to share her image. She captioned it as, "Me and my girls 💕 #chhotidiwali"
We can never have enough of Inaaya's cuteness. I don't know about you but I can hear her chant the Gayatri Mantra all day long.
Also Read Bhai Dooj 2019: Here's how your favourite B-town stars celebrated the festival of brother-sister bond